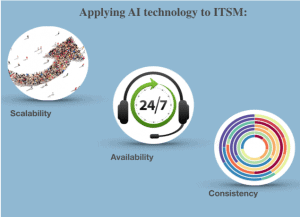 What is commonly being referred to as   "the future work" is today's reality in many organizations.
In fact, back in 2016 the Global Mobile Workforce Forecast Update 2016-2022 from Strategy Analytics pegged the global mobile workforce at 1.45 billion.
What's more, this trend shows no signs of slowing. IDC expects mobile workers will account for nearly three quarters (72.3%) of the total U.S. workforce by 2020.
What does this mean for IT service management (ITSM) professionals? For starters, as employees increasingly change when, where and how they work the expectation is that IT services and support will adjust to their needs, not the other way around.
Delivering services that follow employees across all of their "work" environments requires IT to rethink its traditional support models. Attempting to drive business value while relying on static workflows, asynchronous communication channels and standard SLAs – the old way of delivering support – no longer works.
Ways NLP & NLU based virtual agents help IT consumerize support
Scalability: virtual agents with broad language processing capabilities can be used across geographies where local languages, terminologies and expressions vary. This allows IT to deliver real-time service and support to all employees, regardless of their location. Virtual agents also enable IT to remain compliant with SLAs, even during times of increased incident volumes.
Availability: with today's increasingly mobile and global workforce, providing 24/7 IT service and support is a must. Virtual agents allow employees to ask questions, submit issues, and request goods and services day or night without needing to call the help desk.
Localization: virtual agents can be trained to "understand and speak" the requester's language and identify regional and cultural differences. For today's global workforce, any virtual agent strategy must include the ability to support multiple languages, dialects, character types, and geographies.
Consistency: According to a recent HDI study it costs about $12,000 on average to replace a single service desk FTE in North America (NA), including training costs once the agent starts working on the desk. Virtual agents only need to be trained once and they get smarter continuously. Additionally, they adhere to policies and procedures, never forgetting or deviating from the rules, helping IT remain compliant with industry regulations.
Besides the obvious financial and employee efficiency benefits, virtual agents enable more customer-centric approaches to ITSM. This helps increase employee utilization of corporate IT services. As a result, IT can eliminate the conditions that lead to "shadow IT" – users seeking their own solutions to IT problems.
Experience is everything
The most effective AI-based virtual agents leverage NLP, NLU and machine learning to engage in dynamic conversations. They continuously improve their knowledge and accuracy based on relevant knowledge, conversation history, and trend analytics. This allows them to provide the most accurate answers to questions even as policies change, people move, and products get new features.
Additionally, it is essential that virtual agents involve human agents when needed, as opposed to asking too many questions or, worse, providing the wrong answer. Likewise, virtual agents should make intelligent recommendations about how to fix problems when they hand off issues to live agents.
IT support is best delivered when it's designed around the needs of a global and mobile workforce and enables real-time communication and access to self-service.
Gaining momentum
In Gartner's Top Predictions for IT Organizations and Users in 2018 and Beyond, the firm forecasts that by 2021 more than 50 percent of enterprises will be spending more per annum on bots than traditional mobile apps. Gartner goes on to say "Today, chatbots are the face of AI and will impact all areas where there is communication between humans…the appropriate use of bots is also likely to increase employee or customer engagement, as they can quickly automate tasks to free up the workforce for more nonstandard work.".
The future of work is here. Enterprises are increasingly global and employees must be productive every day in every time zone in every language. The best way for IT to prepare is to lead transformation initiatives. In fact, that's what the business expects.
The following two tabs change content below.
Robert Young
Robert Young is the Senior Director of Product Marketing at Astound, a company focused on automating IT service and support using AI and NLP. Robert has two decades of experience in ITSM, including 5 years at IDC as Research Director for ITSM and Client Virtualization Software. He also previously held IT operations and knowledge management positions at several large enterprises and while on active duty with the U.S. Air Force. Robert continually looks at how cloud, mobile, and AI technologies are changing not only how users interact with devices, but also how IT organizations interact with their customers.
Latest posts by Robert Young (see all)