Business process management (BPM) is a discipline in operations management in which various methods are used to manage, analyze, measure and improve business processes – i.e. sets of structured, repeatable steps carried out to serve certain business goals. In practice, this can mean making all sorts of changes to how a business process works. You could, for example, restructure the process by removing or adding a step, or completely re-engineer it using new technology. BPM software is designed to make the whole practice of process improvement as easy and as accurate as possible, as it helps companies create, track and optimize their business processes from a central hub.
Business process management software solutions provide greater visibility into the organization, enabling business leaders to discover, automate and improve processes, and continuously reduce costs while boosting efficiency and productivity.
The BPM market is currently growing steadily as more and more businesses realize the power of documenting and managing their processes. Presently valued at just over $9 billion, the global BPM market is expected to be worth about $13.5 billion by 2021.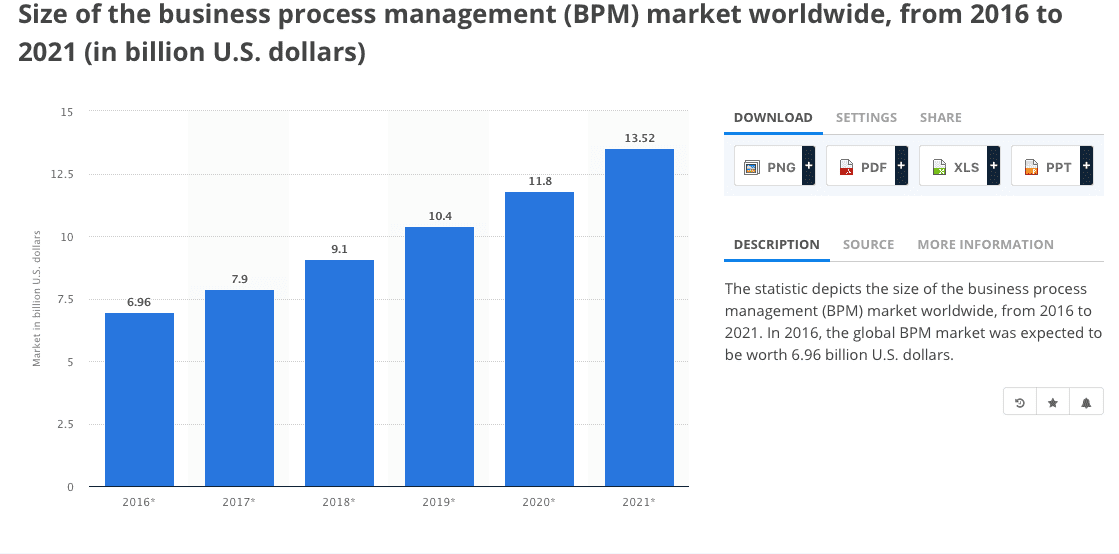 (Image source: statista.com)
Deploying business process management software has many benefits for an organization, including improving efficiency through process mapping, creating frameworks for continuous improvement and change management, eliminating silos, improving employee engagement, and cost savings through improving outdated or simply bad processes.
There are, however, scores of BPM software solutions on the market, making it hard to know which one is best for your particular organization with its own particular needs. If you're looking to invest in a powerful business process management software system for your company – either to implement one for the first time or are considering switching vendors – then keep reading. We've put together a list five top-performing BPM software solutions to add to your shortlist.
Navvia
Navvia is a BPM software solution and was originally developed for the process heavy IT service management (ITSM) world. It was developed by industry professionals to help companies tailor industry-specific and other business processes, and dramatically cut process design costs by at least 40%.
A cloud-based system, Navvia enables businesses to design, document and audit all business processes, and provides templates so users do not have to create processes from scratch. Using a simple and familiar drag-and-drop interface, users can easily design business processes, while the advanced data modeling feature captures all elements that are involved with them. Once created, all processes can be organized into categories and work spaces so they can be easily viewed, analyzed and collaborated on.
Navvia makes it easy to produce and share process artefacts, such as automatically produced process guides, RACI (Responsible, Accountable, Consulted, Informed) charts, flow diagrams, mind maps and even technical requirements documentation (for automaton). The Navvia BPM software solution is feature-rich, and comes with all the tools a business needs to collaboratively design, document and share process documentation across the entire organization, while providing a robust platform for governance and continuous improvement. A 15-day free trial is available.
bpm'online studio
bpm'online studio is a complete business process management software suite that allows users to test, improve and manage their operations, and effortlessly adjust them to the ever-changing business environment. Cloud hosted, one of the best things about bpm'online is that it's compatible with mobile devices, making it easy to track and adjust to changes from anywhere.
Primarily designed for medium and large businesses operating in sales, marketing and service, bpm'online collates all personnel from the various departments under the same digital roof. This makes it easier to connect operations between departments and streamline communication and file sharing between them, minimizing delays and optimizing processes.
For marketing, bpm'online studio provides an array of productivity tools for effective lead management – including demand segregation, lead nurturing and behavior tracking. For sales, the BPM software solution covers deals end-to-end, from ordering to delivery. Beyond this, the platform facilitates the work of large and complex corporations by providing inventory management, billing, invoicing, and many other accountancy-related business processes.
In fact, pretty much any internal process can be automated with bpm'online studio. From document approval to collaboration on complex projects involving multiple teams, the system provides a complete set of tools to effectively manage business processes, including modelling, execution, monitoring and analysis. It comes with a 14-day free trial.
TIBCO ActiveMatrix BPM

One of today's top BPM software solutions, TIBCO's ActiveMatrix BPM allows businesses to coordinate their processes, people and actions to improve business results. Offering full visibility into business processes, the TIBCO platform provides smart work and resource management dashboards, allowing companies to track work, resource, and process details to help find answers to problems and improve planning.
The dashboard can also be used to track the success metrics and key performance indicators (KPIs) of the organization's processes, monitor service level agreements (SLAs), follow progress towards business objectives, and ensure all processes are efficient and effective.
Key features include process automation, process documentation, powerful human capital management, and a predictive operations dashboard. In short, TIBCO ActiveMAtrix BPM is an all-in-one platform that provides end-to-end business visibility, enabling organizations to stay in control of their operations, detect inefficiencies and useful trends, and improve the quality of their decisions.
Nintex Promapp
Nintex Promapp is a cloud-based BPM software solution that enables businesses to seamlessly create and share process knowledge using a centralized repository. Suitable for organizations operating in a multitude of industries – including retail, healthcare, government, education, transport and more – Promapp enables teams to work in cooperative environments by facilitating the sharing of process improvement ideas and collaboration on process building.
A personalized dashboard is created for every user, each of whom can use it to write processes in text format and then generate visual process and procedure maps that everyone can find and follow. Drill-down features also allow users to retrieve details from key documents, such policy procedures, forms and guides. Promapp provides an up-to-date and easy-to-understand knowledge base that drives improved process execution, and makes it easy to identify and implement improvement opportunities. A 30-day free trial is available.
CWA SmartProcess

CWA SmartProcess is a cloud-based BPM software suite that helps companies with process management, quality management, and workflow management – and combines it all into one tool. The BPM software enables simple modelling, optimization and publication of processes and documents, with all of the necessary information about a process presented clearly and concisely.
With process maps, CWA SmartProcess allows teams to quickly identify key process management processes, and publish them as maps directly to the cloud. In this way, CWA enables all employees to see and become familiar with overall structures and dependencies.
The software also provides automated workflow management tools that help manage reviews, approvals and publications, and the document management system allows users to note when they have reviewed, modified and exited a document. A 45-day free trial is available.
Final Thoughts
Business process management software systems enable businesses to design, analyze, execute, monitor and optimize important business processes and workflows. They also act as a valuable automation tool for enterprises to generate a competitive advantage through improved business agility, cost efficiency and continuous process improvement. Businesses that implement BPM software can enjoy all these benefits, but it's essential that they chose the right system. The solutions listed above are all robust and reputed, and come with the key features organizations need to streamline their improvement processes. There are many resources online and we will continue to add to this post a link to to some very relevant and useful articles we happen to find.
Other Articles you may like from around the web:
The following two tabs change content below.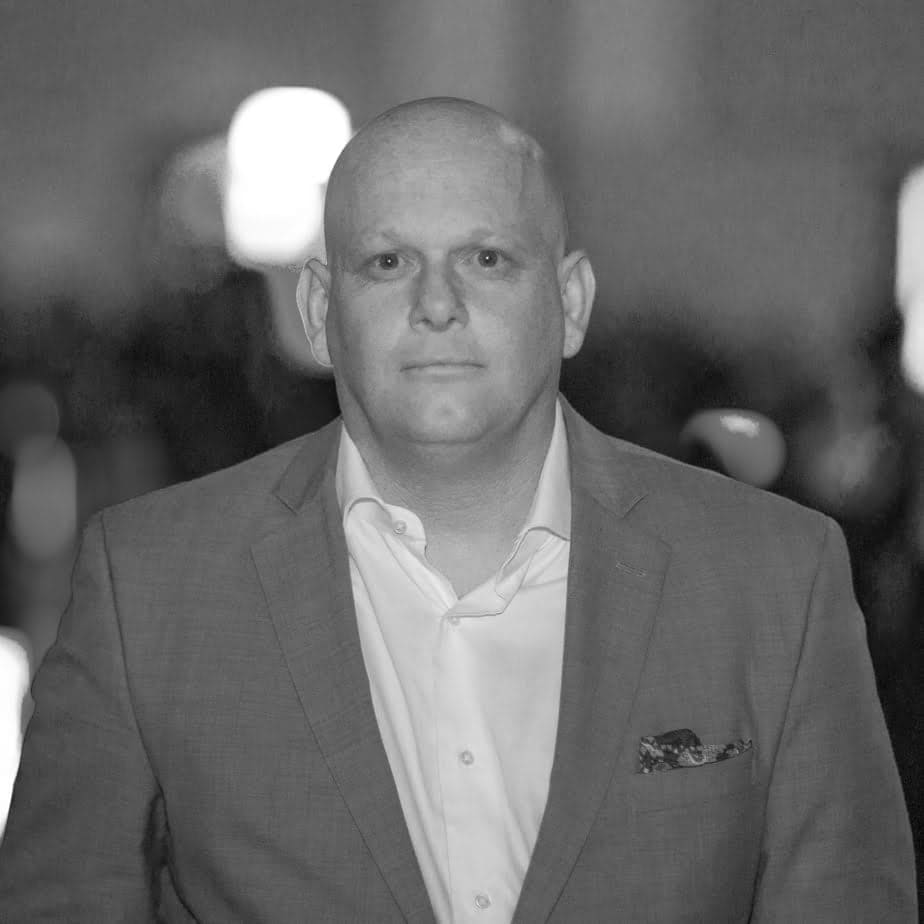 William Goddard
William Goddard is the founder and Chief Motivator at IT Chronicles. His passion for anything remotely associated with IT and the value it delivers to the business through people and technology is almost like a sickness. He gets it! And wants the world to understand the value of being a technology focused business in a technological world.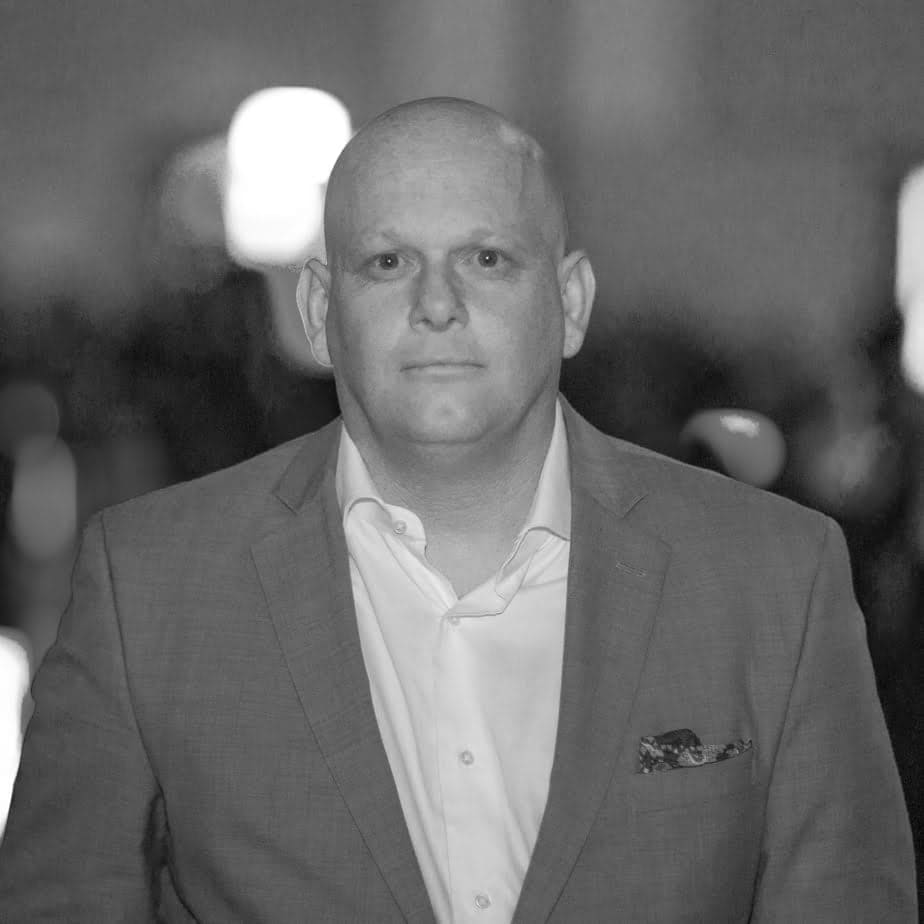 Latest posts by William Goddard (see all)