ServiceNow users will benefit from some major changes that have been made to its Cloud Management application.
Fast access to the cloud resources that meet their needs is essential to today's business enterprise. IT has the challenge of quickly responding to these requests while still being able to reduce risk and manage costs. ServiceNow® Cloud Management gives both cloud users and IT increased control over cloud resources. IT can rapidly create a catalog of cloud resources across AWS, Azure, VMware and other platforms. Users get a consumer-like self-service experience allowing them to manage their own cloud resources and track spending from any device, giving them the opportunity to get the most out of their budgets.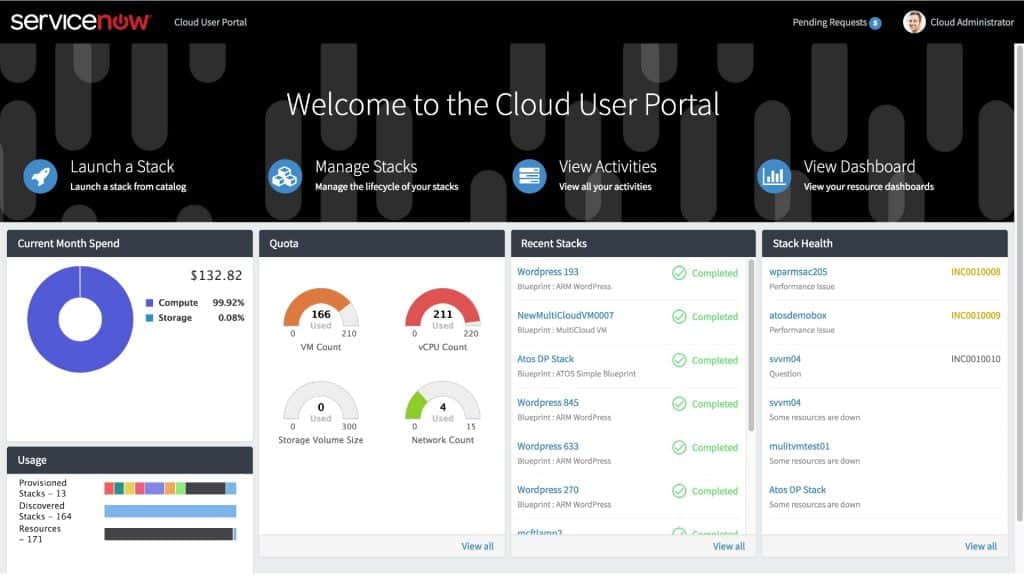 With more organizations choosing cloud-first for new business applications, companies must have the ability to manage cloud services across multiple public and private clouds, reducing  risk and ensuring compliance to company policies. In many companies, the manual processes used to deploy and manage cloud services can take days or weeks to complete. Once services are available, end users are disconnected from lifecycle operations and have to rely on help desk interactions to get their jobs done. Delays in getting support can force users into going it on their own with the swipe of a credit card. This DIY approach puts the user outside the control of IT, creating shadow IT problems.
"As more enterprises go cloud-first for their new business applications, they need cloud resources that are enterprise grade, enforcing consistent governance and control regardless of the underlying cloud provider," said Pablo Stern, general manager, IT Operations Management, ServiceNow. "With our Cloud Management, employees get the freedom to conveniently access cloud resources and IT the power to stay in control."
Time-to-Value at Lightspeed
Cloud Management features a new Cloud Agnostic Blueprint Designer. This will reduce the hours of work needed to create and deploy cloud services. By abstracting the different elements of the creation workflow, ServiceNow is able to simplify the design of cloud services by auto-generating an execution plan that brings together all the up-to-date elements of the blueprint. Governance and compliance policies can be defined independently and applied at run-time. Now, a developer who wants to test their code on a multi-tier test environment can accomplish this task by simply clicking a button.
Empowering Cloud End Users
Cloud Management gives end users a new Cloud User Portal where end users have a single-pane of glass to manage both the business and operational aspects of their cloud resources. From a central location, the user can access their personalized service catalog to launch new services, manage the lifecycle operations of stacks or individual resources and manage consumption against costs, usage and quotas. This gives companies the ability to decrease shadow IT by empowering end-users with direct control of their cloud resources, while still maintaining IT governance and control.
"As a managed service provider focused on helping our clients achieve digital transformation, it is imperative that we deliver a unified view of our client's cloud resources with the flexibility, transparency and the control they need," said Michael Kollar, Chief Digital Officer and Global Head of Cloud Engineering for Atos. "The ServiceNow platform enables us to quickly deliver those services in both a secure and enterprise-compliant manner."
For more information, go to this Community blog.
ServiceNow Cloud Management will be available in the third quarter of 2017.