Today's workers want to innovate, but the pressures of day-to-day work are creating many obstacles. That's just one of many key takeaways from Workfront's fifth annual State of Work Report. It finds that while 64% of workers say their employers regularly asks them to think of how they can use new methods to do their job differently, 58% say they're so swamped with completing day-to-day tasks they don't have time to think about the future.
While this might, at first glance, suggest some sort of crisis is occurring in the modern workplace, it most certainly indicates a major opportunity for companies worldwide – to find ways to unleash the capacity and passion for innovation that appears to be trapped within the workforce.
For five years, Workfront has been digging into the nuances of the modern workplace, unearthing what challenges employees and what helps them work smarter. During 2018, the company surveyed more than 2,000 workers across the US. All respondents work on a computer, collaborate with other people on projects and are employed at a company with at least 500 employees.
What else did they say?
US Workers Are Skeptical of Their Colleagues' Work
Ask a worker who's the most productive employee in the workplace and it's likely they'll say themselves. No prizes for guessing who they think is the least productive. That's right – company leadership.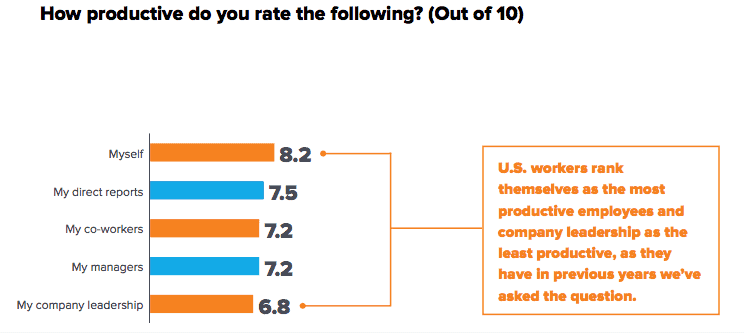 There are other signs of conflict within the workforce, too. If workers could rate their co-workers like Uber drivers, then, on average, they would give them just 3.7 stars (on a 5-point scale).
What are the causes? Fifty-seven percent cite conflicting priorities as the most common source of discord with other departments or teams, 56% say it's communication problems and 47% say there's a lack of understanding about urgency.
There's also a major lack of understanding and visibility among workers as to their colleagues' work. Though employees tend to be clear about their priorities – and the company's priorities as a whole – other people's work is a complete mystery to them.
This presents companies with an opportunity to find ways to help colleagues value each other more – perhaps, through the celebration of successes, accomplishments and major work wins – and to improve communications among everyone.
"The work our colleagues do gives context and clarity to the work we do. This requires visibility across the enterprise, which amplifies our collective efforts. After all, collective learning converted to rapid, collective action has always been the most decisive competitive advantage. This is why every CEO wants to have a single view into the status of all the work happening in their company." Chris O'Neal, Product Evangelist at Workfront.
No time to Think, No Time to Innovate
Workers are being asked to think about how they can innovate – yet, only 39% are provided the time to do so.
In fact, 63% state if they had more time to just think, then their productivity would improve, and 54% say their team would be more successful if all employees were allocated four hours a week to focus entirely on innovation.
To help them do more with less time, workers want better processes to be instituted (33%), the ability to allocate time in their calendars to accomplish actual work (26%) and attend fewer meetings during the week (21%).
Emails and Pointless Meetings Cripple Productivity
Wasteful meetings, excessive emails and unexpected phone calls are the top three reasons knowledge workers are unable to complete their work. In this vein, workers say they spend just 40% of their workday performing the primary duties of their job.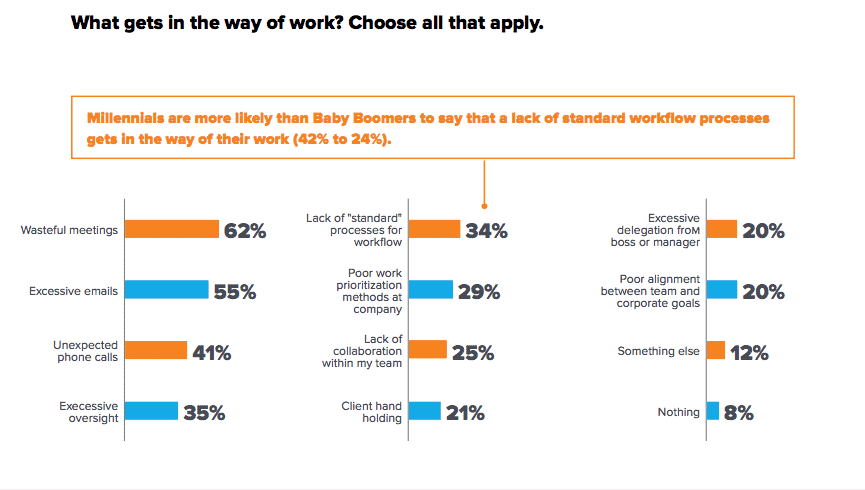 When projects are delayed, workers say the main reasons are not understanding the complete scope of the work (36%), inadequate prioritization (35%), not enough time spent on planning (28%) and an inadequate number of team members (28%).
"For most of us, the little things get in our way. Yet those little things add up and constitute an enormous drain on our productivity. How can we innovate when we have little time for the primary job we were hired to do? Because of this, removing workplace friction is becoming a top management priority." Chris O'Neal, Product Evangelist at Workfront.
Workers Believe Automation Will Help Them Spend More Time on Work that Matters
On average, employees at enterprises across the US think 61% of the work they do matters to them personally. They are also looking for new solutions – 86% state the rise of automation will help people and teams think of work in new and innovative ways.
Sixty-nine percent think automation will provide them with more time to perform their primary responsibilities, and 82% say they are excited about acquiring new knowledge and information as the workforce moves towards more automation.
Those responding to the survey also noted some concerns about people competing with machines and AI for work. Though 93% of workers think there will always be the need for the human touch in the workforce – regardless of how sophisticated technology becomes – 48% say they know people who have already lost jobs due to automation, and almost one-quarter (24%) are worried automation will cause them to lose their current position during the future.
"I'm gratified that the majority of respondents see the positives of AI and workplace automation. Artificial intelligence has the potential to unlock human intelligence and creativity as we've never experienced before. As history has shown, technological advancement creates new opportunities by redefining jobs, not replacing people." Chris O'Neal, Product Evangelist at Workfront.
Workers Are looking for More Digital Tools to Manage Modern Work
More than half (58%) of the survey respondents said their company is currently experiencing a digital transformation. Yet, workers want more. Forty-four percent said they are requesting more digital tools to manage their work, but are receiving resistance from executives.
Just 23% are using a modern work management platform that combines project management, intelligent work automation and in-context collaboration to empower them to work better and faster – though 51% would like such a platform implemented at their workplace.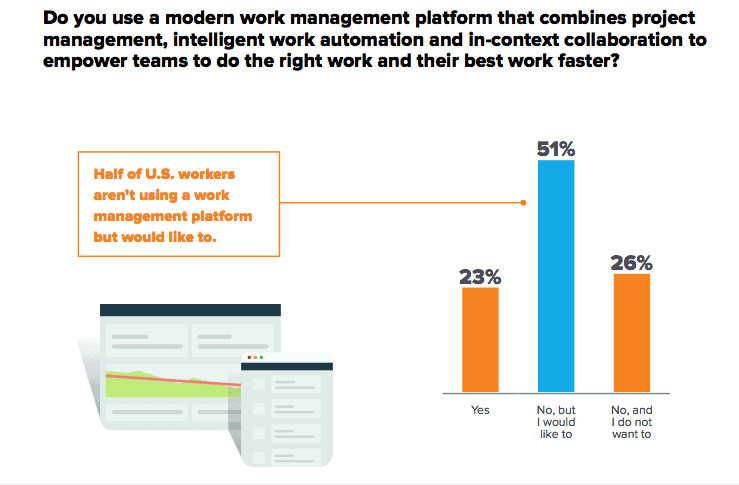 A particularly concerning statistic is that almost half (45%) of the survey respondents said they are unaware work has been assigned to them on a monthly basis. This clearly indicates many companies are lacking work management tools and best practices. The report's authors recommend employers and leaders teach people how to use work management tools, and to find ways to make sure everyone knows exactly when and what work has been assigned to them.
Final Thoughts
In total, the 2018 State of Work report reveals a workforce that is acutely aware of the gaps and challenges it faces, yet, is still, for the most part, positive about the future. The key takeaways are clear – productivity can be improved by increasing time spent on primary tasks, programs should be devised to help colleagues value each other more, automation and digital work management tools must be embraced and more time must be allocated for innovation.
The final word goes to Chris O'Neal, Product Evangelist at Workfront. "I agree that we should be positive about the future. I'd like to quote Workfront's Chief Product and Technology Officer, Steven ZoBell, as his sentiments fully reflect mine, "We must rethink how our teams work together across the enterprise and apply a modern approach to work with new systems and models. Only then can we fully exploit our massive investment in digital transformation. Then we can finally enable our teams to focus on what we actually hired them to do: dream, create, and innovate."
The State of Work report should be essential reading for all business leaders in the US. The full report can be downloaded at: https://www.workfront.com/campaigns/state-of-work