At IT Chronicles we get to hear about a huge number of events in the technical space, sadly there is just not enough time for us to be everywhere. One event I do wish we were attending is the Digital Business World Congress 2017, being held in Madrid, May 23-25.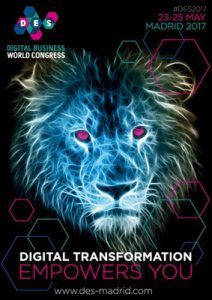 With an expected audience of 18,000 C-Level executives, 400 international speakers and 300 exhibitors, this is the place to be for anyone interested in digital transformation.
The size of the event is impressive, even more so when you understand that this is only the second iteration of the congress.
The second edition of DES – Digital Business World Congress will provide a total of more than 1,200 hours of talks, in which technology and strategic transferring will be shared and undertaken with delegates in a space that is completely dedicated to knowledge, business and networking.
When you consider that a three-day pass for DES starts at just 60 Euros, it is easy to see great value for money in this event.
"This year's congress brings together the main trends currently setting the pace in the digital transformation. Well known concepts such as Cloud Computing, IoT and Cybersecurity are joined this year by others such as Robotics, Blockchain and Artificial Intelligence," says Lluis Altes, Strategy Director at DES-Digital Business World Congress.
The event consists of 12 vertical forums and six seminars, catering to different executive profiles.
The 12 vertical forums will analyse the changes and challenges that each industry must face with regards to the digital transformation.
On 23 May, parallel forums will be held to discuss Industry 4.0, which is undergoing a revolution through Big Data, new technologies, artificial intelligence, automation and robotics. On the same day, the Banking and Insurance forums will be held as the two industries face the challenge of reinventing themselves, taking advantage of new technologies to redesign their traditional models and invent new products and services. Health and Pharma completes the agenda. Medicine is no longer just about drugs but also about preventive services, wellbeing programmes and the improved management of chronic illnesses. IoT technologies relating to health, wearables, patient-centric technologies and Big Data are creating a range of added value services as a solution.
On 24 May, the four vertical forums to be held are: Media and Entertainment, which is facing radical change in business models and the way in which content and advertising are presented. The Logistics forum will focus the debate on the new services emerging under the umbrella of tech innovations, such as drone use for just-in-time deliveries, IoT, Big Data, etc. The Public Sector and Smart Cities forum will discuss the future of the provision of public services. The agenda is completed with the forum on Telecommunications.
On 25 May, the last four vertical forums will focus on the Utilities sector, Tourism and Hospitality forum, an industry that can find allies in trends such as Big Data and Customer Experience, for overcoming the digital challenge. Automotive forum will feature connected cars and the new 'Automobile as a Service' and the Retail and FCMG forum will analyse the change in consumer habits and the supply chain, from product design to production.
This is one event that is definitely going on to the radar for 2018, and I will be eagerly following social media streams to learn more about this year's event.