Perhaps it is time to stop telling your teenagers to get off the video games and go do something production. CIOs surveyed recently by Canadian staffing firm Robert Half Technology cited a number of interests that increase an entry-level IT job seeker's appeal, including website development (72 per cent), participation in hackathons (46 per cent), and video game playing or development (28 per cent).
Technology leaders also listed backgrounds outside of IT that are beneficial to professionals in the field.  Business and marketing was the top response for 44 per cent of CIOs and math smarts impressed another 32 per cent of executives.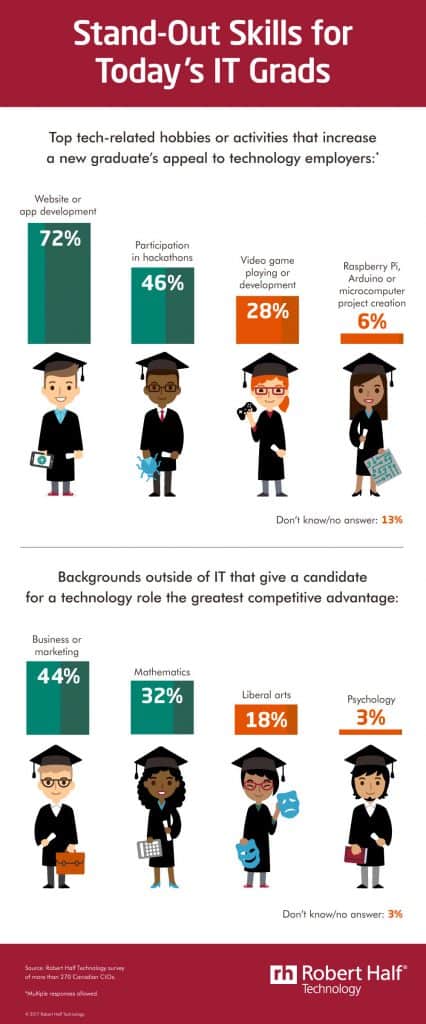 "Although a new graduate's relevant work experience may not be as robust, they often still have the skills and drive necessary to excel," said Deborah Bottineau, senior regional manager of Robert Half Technology. "Highlighting a range of abilities and interests can help job seekers stand out as versatile, and passionate about developing their careers. Aspiring professionals who have studied within multiple disciplines should make an effort to show how these additional skillsets can relate to, and enhance, the IT positions they pursue."
Bottineau also suggested hiring managers consider more than just previous work experience and academic qualifications when assessing new grads for entry-level IT jobs. "Look beyond professional accomplishments when evaluating a new graduate's resume. Candidates who demonstrate an innovative, enthusiastic attitude are often the most driven to expand their skills, and progress as a valuable member of your tech team."
Robert Half Technology offers five tips for new grads pursuing entry-level IT positions:
Tap into your network. Use professional networking sites to connect with people in your ideal industry and ask for informational interviews to learn more about their careers. You can also contact specialized recruiters who can introduce you to local organizations and employers that may be hiring for entry-level roles.
Modify your search and application materials. Instead of blasting out resumes, contact specific employers that interest you and customize your resume to their needs. To stay current, follow companies you like on social media to keep up with what the business is doing.
Make your case. Draw parallels between your pastimes and how you'll add value as an employee. Managers are drawn to professionals who are naturally curious and want to learn, so play up those traits during your interview.
Showcase your soft skills. IT hiring managers look for people with exceptional interpersonal abilities, like problem solving and communication. When meeting with potential employers, highlight how you've collaborated on projects and worked through challenges.
Remember the basics. Don't let a small mistake – like arriving late to an interview or dressing inappropriately – jeopardize your job search. When meeting with hiring managers, come prepared with copies of your resume, a strong handshake and examples of what you can offer if hired.
About the Research
The survey was developed and conducted by Robert Half Technology and includes responses from more than 270 Canadian CIOs.
The following two tabs change content below.
Eric T. Tung
Eric T. Tung is the director of digital communications for GoTo Marketers, a top-rated social media strategist and consultant, and dad. He has worked with some of the leading companies in the world on digital communications and employment branding, and makes a mean smoked brisket. Eric is based in Houston, Texas, and you can find him on most channels as EricTTung.
Latest posts by Eric T. Tung (see all)