Cybersecurity continues to be a top priority for IT professionals according to a first-ever industry survey conducted at the 13th annual New York Tech Summit earlier this year.
"While the survey provided a snapshot of the many challenges facing IT professionals from across the state, we found cybersecurity to be the most prevalent topic on the minds of those who participated in our first-ever survey," said Renee Duffy, director of marketing for TERACAI and CXtec. "We know cybersecurity is a popular topic due to recent world events, but our survey results indicate that preparing for and fighting cyber security can certainly be quite a daunting task for IT professionals!"
Nearly half the respondents, 49%, indicated that their top concern was security and that 26% of those surveyed indicated they spend up to half of their organization's budget on security-related products and services. And, nearly 65% indicated they spend up to one quarter their company's budget in this category. Security is such a concern that over one fifth, 21%, of those surveyed indicated the types of products and services needed to combat cyber security would be their top investment in 2018.
A fast growing technology trend indicated by survey participants was cloud computing. Here, 77% indicated that up to one quarter of their infrastructure is based in the cloud with email and Office 365 being the top two applications being utilized.  However, while this trend continues to grow, only 8% said it would be their top investment in 2018.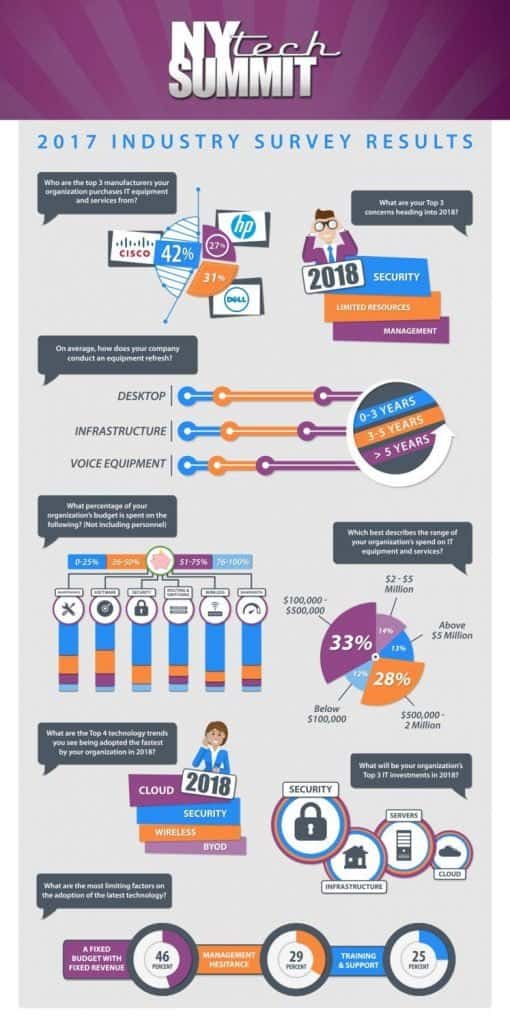 What and where are these IT professionals spending their money?
While 61% of those surveyed spend between $100,000 to $2 million on IT equipment and services a year, 46% indicated the most limiting factors on adopting the latest technology is working with a fixed budget that includes a fixed revenue. Instead of one big ticket item, respondents indicated that up to 50% of their annual budget would be spent somewhat evenly amongst these product categories: security; software; maintenance; bandwidth; routing and switching; and wireless. According to those surveyed, 42% purchase their equipment and services from Cisco, while 31% buy from Dell and 27% from HP.
Time for a refresh both professionally and socially!
A very high percentage of those surveyed indicated that their average time for equipment refresh on products related to infrastructure, desktop, and voice equipment runs between three and five years. When asked how they best like to refresh themselves outside of the workplace, by far the majority favor some sort of outdoor activity ranging from camping; hiking; swimming; cycling; climbing; boating; and running; to name a few.
"We are quite thankful to all those who participated in our first-ever industry survey and plan on continuing to make the survey an annual event at future New York Tech Summit conferences," said Duffy.
Source – PR Newswire