Artificial Intelligence relies on good data. Facebook sits on a goldmine of data, and it makes no mistake in recognizing it.
While its competitors – Google's DeepMind, and Musk's OpenAI – focus on Artificial General Intelligence (AGI), Facebook is clear that its objective is to match human intelligence. Mark Zuckerberg propounded publicly,
"Our goal is to enable computers to understand language more like humans would, instead of rote ones and machine-like zeroes memorization."
Jerome Presenti, VP of AI at Facebook, says, "There is no real model for AGI…because if you think about it, human intelligence is not very general."
With Facebook's tall ambition of making machines truly intelligent, it has several labs and researchers dedicated to Artificial Intelligence (AI) and Deep Learning. Here's a roundabout of the results the union of Facebook and AI is reaping.
A Quick Overview of the Facebook Empire
The social-networking behemoth continues its dominion and upward swing in the world of social media. It is the 5th highest valued company by market value, behind Apple, Microsoft, Alphabet, and Amazon. According to the latest statistics published by Facebook,
As of the third quarter of 2019, its monthly active users were 2.45 billion – which, to give a bit of context, is a billion more than China's current population.
Additionally, these figures did not include the user data of its sister products – WhatsApp and Instagram. The amazing part is, this figure continues to rise. No wonder Facebook outshines all others interms of social engagement.
Source: Facebook
Every minute, people upload over 136,000 photos on Facebook and 293,000+ statuses. Thisgives AI experts at Facebook a ripe playground in which to experiment. They derive knowledge from the data from posts, comments, images, and videos to inform their theories, models, algorithms, applications, software, and hardware infrastructure. Presenti says,
"The rate of AI usage is remarkable at Facebook. Ournumber of AI engineers and developers is more than doubling every year".
Facebook Acquisitions to Date
Mark Zuckerberg has acquired over 80 companies, with the largest deal being WhatsApp. A few notable acquisitions by Facebook include: Instagram; Oculus; LiveRail; and Onavo. Some of smaller purchases include domain fb.com, hosting and sharing platform Drop.io, which was also bought by Facebook in 2010.
The goal of the company is to connect every person on the earth with Facebook-owned tech in the next 100 years. It's a perfect example of a company with the buying capacity of more than entire nations. The total cost of Facebook's acquisitions, thus far, is $23,124,700,000, USD and rising.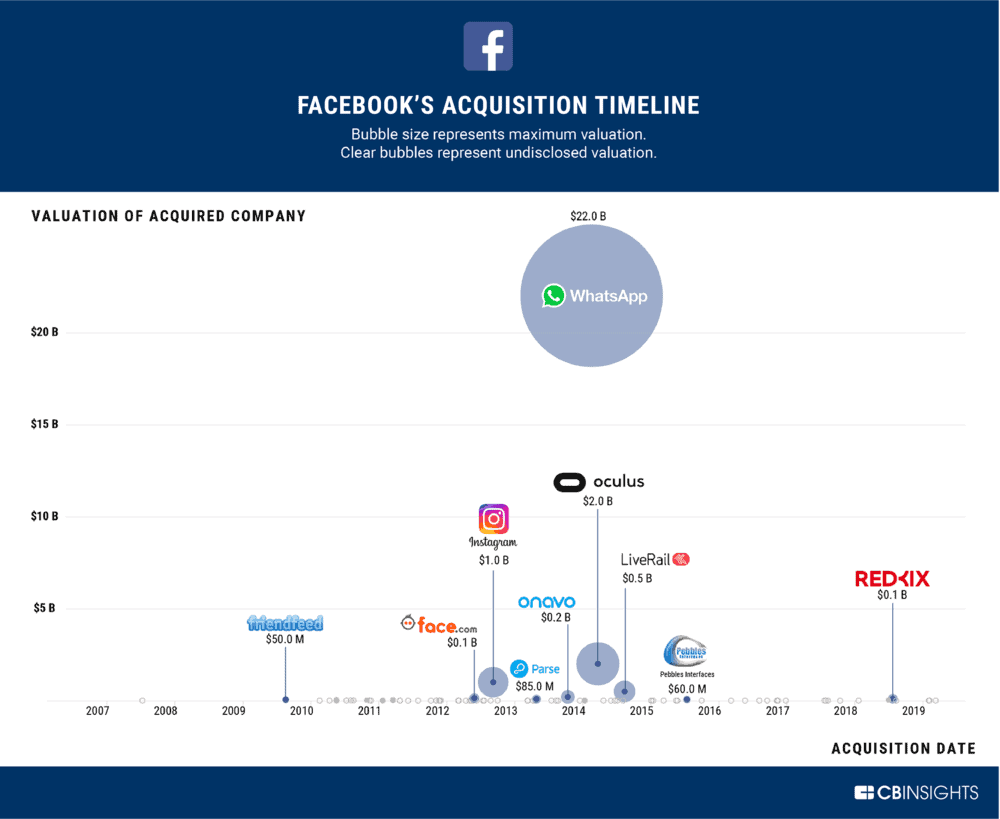 Source: CB Insights
Facebook's Artificial Intelligence Policing: 7 Use Cases
Zuckerberg has pledged to use AI to solve some of the biggest problems faced by the company and its users, especially across seven major categories:
Hate Speech
Terrorism
Nudity
Graphic Violence
Spam
Suicides, and
Fake Accounts.
Facebook Artificial Intelligence Researchers, better known as FAIR, are working to understand and develop AI systems with the intelligence of the human level that can not only advance AI models but police malicious activities pervasive on the social media platform. A look at the few AI use cases that deep learning AI engineers at Facebook's innovation labs have built.
Deeptext
A tool by Facebook, Deep Text, parse through the comments, posts, and other data generated on Facebook to know how people use language, slangs, abbreviations, exclamation marks, commas, etc. and understand the context.
The AI technology will be instrumental in making News Feeds more relevant and matching users' requirements with advertisers. Deeptext is expected to weed out irrelevant content and identify trending topics more quickly.
Machine Translation
AI experts at Facebook are in direct competition with Google to develop the most robust online global communication system. The applied machine learning team at Facebook has built its own automatic AI-based translation system to enable Facebook users from different regions to translate posts appearing in their News Feeds. FAIR researchers in a report state,
"Translation is important to Facebook – to make the world more open and connected. About 50% of Facebook's users aren't familiar with English. Social media should be able to translate in case one wishes to write to a friend in China or Portugal."
AI Use: Automatic Image Recognition
Deep learning and AI experts are building and improving upon image recognition software. Recent image classifiers can search through one's photos without relying on tags or surrounding text, but based on the image alone. The goal of the researchers is to understand what's going in the photos and answer questions about it without the need for human intervention.
Talking Pictures
Artificial Intelligence engineers and deep learning experts at Facebook are building "Talking Images" for visually challenged people. The software enables one to read the image. It is also making the image search more powerful. It is called image segmentation. This would allow users to say search a photo of five on skiing on the snow with specific backgrounds. See the video for illustration:
Artificial Intelligence: Chatbots
Bots are providing automatic subscription content and customizing communications for both end-users and advertisers. Three main capabilities of Facebook's bot API used in its messenger platform are:
Send/Receive API – For sending and receiving texts, images, and rich CTAs.
Message Template – Involving pre-made message templates allowing customers to see beautiful, user-friendly images on a tap of a button.
Welcome Screen – It's a place where people discover the features of a chatbot and trigger new conversations.
Caffe2go
It is a new image and video transformation tool by the AI experts at Facebook. You want to add a Van Gough touch or Picasso, Caffe2go is the tool to opt for! It can add an artsy touch to videos and images, just like Prisma, but on a more nuanced level. Earlier such transformations required sending the video to a data center for processing, but the Caffe2go technique can be used in the palm of your hands to express your creativity freely in a flash.
Suicide Watch
A group from Ireland called local police in Mumbai, India, to inform them about a person planning to attempt suicide. This was made possible by a recent AI marvel by Facebook used to thwart suicides. The technology scans users' posts and comments by friends to look for the signs of trouble and generate alerts in case of any emergencies.
AI @ Facebook: New Breakthroughs
Facebook is the hub of AI innovations. To tell you an interesting story: Not many years ago, researchers at FAIR found an incredible development in chatbots.
The bots reflected amazingly new, self-learned tactics. During negotiations, the bots showed deceptive abilities to feign interest in one item only to 'sacrifice' it at a later stage as a faux compromise. The project was regrettably shut down as the bots also developed their own language in the process. Here are a few latest AI breakthroughs in the pipeline for Facebook:
Recently Facebook began a Deepfake Detection Challenge (DFDC) to accelerate the development of fake video detection. Facebook's AI engineers' attempt at triggering alarms for false positives and false negatives have been a work in progress for many years now. As the access to deepfake technology becomes easier, detection models will need to be made robust. In the challenge, the top-performing model could detect fake videos with 82.56% accuracy.
At the beginning of this year, a terrorist live-streamed an attack through video on Facebook. Researchers and deep learning experts are working to educate AI models to detect such videos and take them out of public space quickly. Facebook is training ML systems to recognize objects – from mundane vases to people and dangerous objects.
Engineers from Facebook Reality Labs and its subsidiary Oculus have developed a VR system that can track hands and respond to it. It relies on monochrome cameras. It tracks hands and allows users to pause a movie with a hand gesture while watching it in VR. The idea is to make VR and preferably AR as well more natural and intuitive.
AI is fundamental to Facebook. The technology and skilled Artificial Intelligence engineers are powering new algorithms' at Facebook and making it a force to be reckoned with.
Summary:
How Facebook Uses AI
Zuckerberg has pledged to use AI to solve some of the biggest problems faced by the company and its users, especially across seven major categories: 1. Hate Speech 2. Terrorism 3. Nudity 4. Graphic Violence 5. Spam 6. Suicides 7. Fake Accounts. AI Use: Automatic Image Recognition, Machine Translation, Talking Pictures, Chatbots