As the ambassador-at-large for the ASL BiSL Foundation, a non-profit, professional membership organization, I'm tasked with building bridges between IT-related communities in order to explore where our ASL® and BiSL® frameworks add value. As such, I participate in The Open Group's IT4IT Forum and have contributed to several IT4ITTM publications. I'm enthusiastic about what IT4IT has to offer. It provides end-to-end, overarching guidance for improving IT's operating model, and it refers to other standards and frameworks for specific and more detailed guidance, including BiSL®, a framework for management of information from a business perspective. This blog gives a high-level sketch of IT4IT and BiSL Next, and shows how they relate to each other from different perspectives but with a common goal: helping the lines of business and the IT function to co-create business value from investments in information and related technology. The emphasis is on co-creation with strong digital leadership from the business: in the digital enterprise, IT is too important to leave to IT.
IT4ITTM for running IT as a business
The Open Group IT4IT Reference Architecture is a standard for managing the business of IT. It uses a value chain approach to model the functions that IT performs. It comprises an IT value chain and a reference architecture. The IT value chain is a value-oriented, end-to-end way of describing what an end user enterprise's IT function does. The IT4IT reference architecture focuses on standardizing the functionality and information that an IT function needs in order to automate its activities ("IT for IT").
The IT value chain comprises four value streams that are supported by supporting activities, as illustrated below. Together, these value streams help IT to manage the end-to-end lifecycle holistically.
Strategy to Portfolio (S2P) receives strategic demands for new or improved services from the business (and from IT) and develops the conceptual service to represent the new or enhanced service that is requested.
Requirement to Deploy (R2D) receives the conceptual service and designs, sources (builds, buys, or rents), tests, and delivers the deployable service (service release blueprint) to the R2F value stream.
Request to Fulfill (R2F) receives the service release blueprint and creates service catalog entries that represent how the service is technically delivered. Once services are requested, the R2F value stream transitions the service into production where the D2C value stream picks up the operational activities of the service.
Detect to Correct (D2C) value stream monitors, manages, remediates, and other operational activities associated with realized services and/or those under construction. Output from the D2C value stream enters the lifecycle as new demand within the S2P value stream.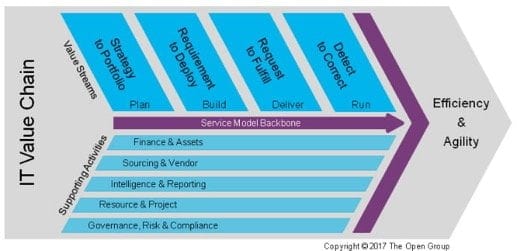 Figure: IT4IT's IT value chain
BiSL® Next for running an information services business
The ASL BiSL Foundation's Business Information Services Library (BiSL®) is intended as guidance for the business in its roles as IT service consumer, and as owner of information that is regarded as an increasingly valuable business asset. The most recent version of the guidance, BiSL® Next, is intended to be used for digital transformation as well as for governing, managing and running a digital enterprise.
The BiSL Next model comprises twelve major components, starting with the four drivers that are the underlying principles, followed by the four perspectives that are constantly taken to ensure a balanced result, and finally the four domains of activities that are needed to achieve the desired results. The drivers are need, value, mission and capability. The perspectives are business, data, service and technology. The domains are governance, strategy, improvement and operation and together, they are referred to as Business Information Management:
Governance: the organizational capacity exercised by the board, executive management and IT management to control the formulation, implementation and management of information services, ensuring the required degree of fusion of business and IT. Formal management oversight of how the enterprise is managed in terms of hierarchies, authority, roles and responsibilities
Strategy: definition of strategic information needs, and direction of service design
Improvement: analysis, specification, realization, testing and deployment of the information needs of new services and/or improvements to existing services
Operation: support for those using information services when carrying out their activities within the business processes, for the operational management of the business information services supplier, and for providing and monitoring the operational services.
Figure: BiSL Next model
End-to-end, business and IT
IT4IT provides end-to-end, overarching guidance for the IT function, and refers extensively to other standards and frameworks for more detailed guidance in specialized and adjacent domains. IT4IT refers to BiSL®, that provides guidance for management of information from a business perspective. This is needed to ensure that the right investments are made, and that maximum value is actually realized by the users. It's no good having perfect applications if the users misinterpret the information and take the wrong decisions. There is a degree of overlap between BiSL Next's domains and IT4IT's value streams and supporting activities, but they can be regarded as complementary because of the differing topics and because of the differing perspectives on shared topics. The mapping is illustrated below. BiSL Next's governance domain is depicted as an underpinning domain, and corresponds well with IT4IT's Governance, Risk & Compliance supporting activity.
Figure: BiSL Next's domains and IT4IT value streams
IT is too important to leave to IT
Information and related technology used to be deployed mainly as operational resources to help enterprises operate more efficiently. But now many enterprises use information and technology as strategic assets that are parts of their products and determine their customers' experience.
These digital enterprises are challenged by potentially conflicting IT demands: business continuity versus time-to-market versus competitive advantage. In other words, they need more resilient IT systems, speedier throughput from development to production, and better product development. Organizations that can address these challenges have three things in common:
Good balance of responsiveness to change, and highly disciplined operations – change thrives on high variability, whereas operations benefits from low variability to a degree that much of it can be automated
Closer collaboration between business and IT – formal demand-supply models that rely on service level agreements tend to polarize attitudes within business and IT
Strong digital business leadership – IT in the digital enterprise is too important to leave to IT.
Digital transformation implies a change to IT's operating model. It requires a better use of IT for IT itself, for instance a higher degree of automation of IT processes. It also entails better collaboration between various parties: between IT disciplines, between IT and its external IT service providers, between the business and its customers. Customers must be included: increasingly, they have their own digital ways of engaging with enterprises and they value enterprises that give them a good digital customer experience. Within the enterprise, business and IT are converging, so decentralization of IT to the lines of business is an important part of digital transformation. IT services also have to be used better, both internally in the enterprise and externally by customers, in order to realize value. This can be improved by better user involvement during development and deployment, as well as better support during use.
These changes demand a more inclusive way of working. The IT function is no longer an isolated and subservient order-taker, but is an integral part of the enterprise's lines of business, co-working towards common goals. Both IT4IT and BiSL Next embrace this holistic approach and complement each other: IT4IT provides guidance to run IT as a business, and BiSL Next to run an information services business.