When creating a business continuity plan, you don't have to start from scratch. There are many freely available business continuity plan templates that you can use as the basis for your own plan. Some of these include examples of how to complete each section of the plan, which can be very useful as a guide. It can be useful to find a business continuity plan example from someone in the same industry as you. While the sections in a generic business continuity plan template will be the same irrespective of what your organization does, each section's detail will vary according to your own operating model and the specific threats to business continuity that you face.
Starting with a business continuity plan template can really accelerate the production of your own plan, but you still need to put in the time and attention if you want a plan that will work for you when you need it. The completed plan will vary in size and complexity depending on what your organization does, how it is organized, and your specific operating model.
Business continuity plan sample
Here is a sample of one of the completed sections from a business continuity plan for XYX Inc.
Section 3: PLAN ACTIVATION
Circumstances
This Plan will be activated in response to any incident causing significant disruption to normal service delivery, particularly the delivery of key and critical activities. Examples of circumstances triggering activation of this Plan include:
Loss of key staff or skills that are above normal levels of absenteeism
Loss of critical IT systems and services, for whatever reason
Denial of access, or damage to, facilities, e.g., loss of a building through fire
Loss of a key resource, e.g., a major supplier vital to the delivery of a key service
Responsibility for activation
Any member of the nominated Business Continuity Team for XYZ Inc. named below has the authority and responsibility to activate and stand down this Plan:
| | | | |
| --- | --- | --- | --- |
| Name | Role | Office | Mobile |
| A Smith | CEO | Extension 111 | +99 123456 |
| R Brown | CIO | Extension 112 | +99 789012 |
| G Green | CFO | Extension 113 | +99 345678 |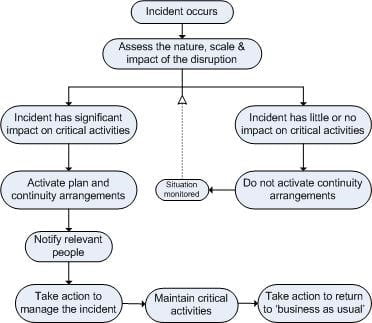 This section of a business continuity plan sample should be included in any BCP. The full business continuity plans will vary in length and complexity, depending on the organization's scale, its industry, and its needs. The key consideration is to keep the plan as simple as possible to aid understanding, but not so simple that there isn't enough detail that can be followed.
Business continuity plan template
There are plenty of business continuity plan examples and templates available for free download. Here is an example of just one template for a BCP plan. This example of the structure for a business continuity plan will provide you with the basis for customization and application to a wide variety of circumstances. Each section included below includes a short description of the section and a list of specific points to address.
Section 1: Document control
A business continuity plan is an important document. It should be under formal document control, where each update is assigned a version number. A list of the version numbers and release dates should be included in each iteration of the business continuity plan, together with the list of approvers and approval dates.
Business Continuity Plan Template: Section 2: General Information
Every business continuity plan template should include a section providing general information about the plan and its purpose. This section should only provide a brief summary of the plan and not go into any detail about invocation or management processes or procedures.
This section should include:
General recovery information such as the emergency number that can be called by anyone to report a critical incident, information about locations used by the organization, including any recovery sites.
The types of threats, disruptions, disasters, and emergencies covered by the continuity plan.
Critical business functions and any dependencies between them.
Recovery timeframes.
An outline of the recovery strategy, including how staff and critical assets will be protected.
Section 3. Plan Activation Process
This section provides information about the responsibilities for activating the continuity plan for the business and the sequence of actions that should take place to invoke the plan. This section should include:
Business continuity team members contact information and responsibilities.
Names and contact information for any other key individuals and stakeholders who need to be informed at the outset. e.g., the press office
The process for invoking the plan showing any decisions that need to be made and responsibilities for making the decisions. This is usually shown as a flowchart.
Policies and procedures that define how information about the disruption and recovery will be communicated, including the communication methods and frequency.
It's very important to have a well-defined and known process for how to activate the plan. For some critical events, such as fires that affect the whole location, it's pretty obvious that the plan needs to be invoked. But sometimes, the event can start as something minor but escalate to be major before you realize it. It should be possible for any employee to raise the alarm; a senior team then assesses if the plan needs to be activated or not.
BCP Template Section 4. Recovery and Restoration Procedures
This is usually the largest part of any business continuity plan. As each part of the organization works in different ways, it's unlikely that they will all have the same recovery and restoration procedures. For example, in a manufacturing organization, the finance function could work from home, but not the factory operatives. To deal with this, each function in the organization should be responsible for developing and maintaining their own recovery and restoration procedures using the same business continuity plan template as part of the organization's overall plan. This section should include:
Common recovery activities and tasks, with any sequence and responsibilities.
Actions to secure vital assets, including things like data and keys.
Activities to restore operations.
Relocation or remote working procedures for events that prevent access to the normal workplace.
The overall plan must also include the activities required for educating and training all staff on the plan. Without this, it's highly unlikely that the plan will be successfully executed when needed.
Business Continuity Plan Template: Section 5. Contact Lists
This section should include contact information for everyone that needs to be aware of an actioned plan. The plan has to be readily accessible, not just in a folder locked away somewhere. Today, many organizations keep a copy of the plan in the Cloud, with a link to it from every employee's mobile device. Having this information at hand will save time during any plan activation.
The contact lists should include telephone numbers, email addresses, physical addresses, and any other contact details for the following
Business continuity team members.
Function heads.
Press offices.
Related organizations such as head offices and other company locations.
Emergency services.
Government agencies.
Customers.
Suppliers.
Business partners.
Section 6. Testing
Testing the plan is a vital part of any business continuity strategy. A plan must be tested as soon as it has been created. It is only by doing this comprehensively and diligently that you can verify if your BCP is going to work or not. Many organizations fail to give this the attention it deserves to find out that their plan doesn't work as expected when they have to execute it for real. Testing will help you to find any parts of the plan that need to be changed or improved before it is too late.
Instead of waiting for a real disaster to happen, it is a good idea to execute the plan using a simulated emergency. This should be done with as few people as possible, knowing in advance that it isn't a real emergency. This approach to testing business continuity will give you the best guarantee of success, as it will highlight any areas of improvement. Ideally, this will be regularly re-run using different scenarios that test different parts of the BCP plan. For example, the first scenario could test what happens if staff need to leave the premises following a fire and being unable to get back into the building. The second scenario could simulate transport issues where only half the staff are able to get to the offices. All of the scenarios considered should be included in the general information section of the BCP.
Section 7. Training and education
It is vital that all employees are aware of the BCP and what their role is in executing the plan. Some staff will require more training than others, but all should receive education about it. This section Should describe how this will be provided, including:
The expected outcomes.
The different methods that will be used for training and education, including any simulations.
Who will receive what training and education?
How success will be evaluated.
Section 8. Additional Information
An appendix can include any other relevant information, including:
Any related business continuity plans, such as disaster recovery plans or the plans of key suppliers or partners.
Any related forms or templates such as expense tracking and communication templates.
References and access information for any documents and resources required for the successful plan execution.
To summarize, BCP Template & Examples
Business continuity plan examples and templates and provide a useful starting point for any organization. They should, however, only be used as a sample of a BCP. The detail must be developed by the organization taking into account their own circumstances. The BCP should contain all of the detail required to execute it successfully. The plan must be easily accessible by all staff, no matter where they are located. Robust and realistic testing using a range of different scenarios is the secret to success in business continuity planning.