Data centers are becoming increasingly necessary in our modern society since people often work, shop, stay entertained, and communicate with loved ones online. When data centers have issues, thousands of individuals across the world could experience the effects.
Beyond that, equipment failures could pose dangers — such as fires — to on-site staff members. Adhering to data center design best practices could keep people safer and give the facilities room to grow.
Assess the Workflow to Prioritize Automation
Automation can become a substantial contributor to data center optimization, especially when it minimizes the likelihood of human error. Increasing automation reduces the number of people who must come to the facilities to perform management tasks. This benefit is currently crucial due to the ongoing global COVID-19 pandemic. Improved automation could reduce virus transmission in the workplace by reducing team sizes.
Another advantage of automating processes is that you can rely on analytics platforms that show current capacity and help data center managers gauge their future needs. Studying how the statistics change over time could also alert teams to problems they must address immediately to avoid equipment failures or outages.
Investigate How to Make the Wiring Safer
People probably don't think about the wiring of a facility unless things go wrong. One reason for this is that it's often out of sight. The two most common approaches are to run wires under the floors or use overhead cable trays.
Some electrical conduits used in data centers have a color-coding system that shows their different roles at a glance. For example, blue conduits often designate those used for communications.
Conduits with polyurethane jackets are growing in popularity because they offer safety and efficiency-related perks. These are low-fire-hazard options, too, since they only emit small amounts of non-toxic smoke and do not release toxic, combustible gases as PVC products could.
Data centers around the U.S. and Europe are starting to prefer these conduits for those reasons. Many variants are also prefabricated, which speeds up the time needed to expand or change existing wiring.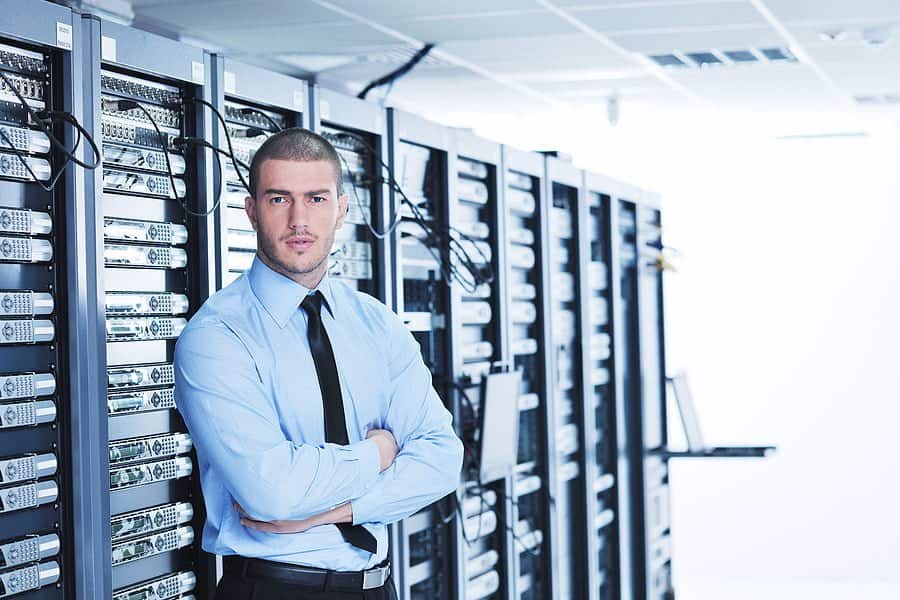 Explore Options for Cooling-Related Data Center Design
Keeping the data center's equipment within the ideal temperature range is crucial for prolonging its life and avoiding unexpected failures. Professionals can pursue enhancements by getting educated about the available products that promote adequate climate control in these specialized facilities. In most cases, it's necessary to use multiple solutions that work together and to choose products with characteristics that support data center optimization goals.
For example, cold plates promote localized cooling by transferring heat from a device, such as a central processing unit, to a liquid that reaches a remote heat exchanger and dissipates the warmth. Cold plates address most of the heat load, but people often use air-cooled solutions to tackle the rest. Keeping the thermal resistance low is a vital part of choosing a cold plate. Some options offer thermal resistances 1-2 orders of magnitude lower than swaged-tube and pin-fin plates.
Integrate Physical Security Into Plans
Server rooms are some of the most important areas to secure within the premises to prevent possible catastrophes. An unauthorized and malicious party could enter the data center and infect a server with malware. If such an attack happens, and the event reaches the headlines, the brand may deal with tremendous reputational damage and put its growth potential at risk.
Cameras that can detect entry and automatically pan to follow someone's movements are readily available and worth consideration. Look into solutions that store recorded footage for you and allow examination later.
Research which types of locks to have on the server room doors, too. For example, if the current security system requires a traditional key, you could upgrade it to a code-based or even biometric option for tighter safeguards.
Follow a Cybersecurity Framework
Data center optimization also requires realizing how cybersecurity fits into a high-performing, problem-free enterprise. Choosing and committing to a well-respected cybersecurity framework gives organizations an excellent starting point for designing a facility that takes online security risks into account and ensures the facility can respond to and recover from attacks or identified vulnerabilities.
One example of a possibility to pursue is to institute role-based access privileges. A employee can then engage with the online platforms and tools they need to do their jobs, without the risk of that individual accessing something they shouldn't and exploiting it in ways that harm the company. Artificial intelligence-based products can detect strange traffic that could indicate issues caused by an outside or unauthorized party.
Bring the Cloud Into Your Backup and Disaster Recovery Plans
Whether your data center design efforts center on remodeling or building a data center from the ground up, you must stay mindful of ways to conquer worst-case scenarios. More specifically, how will you deal with lost data or sudden outages?
One popular choice is to create a multi-cloud disaster recovery plan. The concept behind this approach is to keep data in several cloud-based facilities not located geographically close to one another.
This proactive option works exceptionally well if you work for a company that wants to store some of its data on the premises and also use a cloud provider. Most of the leading options maintain locations in numerous regions, thereby boosting resiliency.
Deploying a cloud-centric strategy can foster growth, too. It shows that you're taking decisive measures and giving your company the best chance of bouncing back from situations that disrupt your operations.
Cultivate a Future-Based Mindset For Your Data Center
As you examine the best ways to make a building and its components well-suited for your needs, think about what you require now, plus what you're likely to require later on. Look for products that allow you to scale up as needed with limited headaches.
For example, many companies offer build-your-own power distribution units for data centers. They frequently create those products so that they're as flexible as possible to accommodate your circumstances as they change.
Modular data centers are also rising in popularity. They arrive at sites with many of the construction elements already completed in off-site factories. These options cost 20-30% less to build, as well. If your data center is expanding quickly and you want to respond without delays, modular construction could help.
No matter which specific methods you choose, aim to nurture a mindset that keeps your sights on the future and lets you act now with respect to what you'll need later.
Data Center Design Suggestions to Empower You
Maybe you're at the point where you have a broad goal of achieving greater data center optimization, but you don't know how to start. The tips here can steer you in the right direction and provide valuable food for thought, helping you make smarter decisions.
Summary:
How to Optimize Your Data Center Design
Assess the Workflow to Prioritize Automation. Investigate How to Make the Wiring Safer. Explore Options for Cooling-Related Data Center Design. Integrate Physical Security Into Plans. Integrate Physical Security Into Plans. Integrate Physical Security Into Plans. Cultivate a Future-Based Mindset For Your Data Center. Data Center Design Suggestions to Empower You.