2018 was another year of artificial intelligence (AI) mania, with machine learning and deep learning in particular hogging the headlines and grabbing the attentions of developers, businesses, commentators and consumers alike. And we shouldn't expect the hype to die down any time soon.
One day, of course, AI will become just another commonplace technology in our daily lives – much like the smartphone, the internet, the desktop and the pocket calculator all became at various points throughout recent history. But for now, AI is still an exciting new technology that's bursting with as yet unrealized potential, and 2019 will undoubtedly see some astonishing breakthroughs, as well as continued attention and enthusiasm from the media and tech spheres.
But what sort of things can we expect? With 2018 now coming to a close, let's take a peep into our crystal ball and start asking what the future holds for AI and the impact it will have on businesses over the next twelve months.
AI Regulations
A growing number of companies are implementing and leveraging AI solutions – but what is this technology really doing with our data, and do the companies that use it even know themselves?
A number of reports this year revealed that some companies have held back from deploying artificial intelligence in their systems, due to fears that they may end up facing liabilities if current technology is later judged to be unfair or unethical. A recent study of 5,000 C-level executives by IBM found that 83% of businesses are considering using artificial intelligence, but 60% are hindered and hesitant by concerns over trust and compliance.
One of the greatest benefits of AI is its ability to make connections and draw inferences from data that may not be obvious to the human eye. But privacy concerns are rising, and artificial intelligence needs to be trusted if it is to reach its full potential – especially if it's making decisions that affect the daily lives of data subjects.
The EU's General Data Protection Regulation (GDPR) gives people some protection against decisions made solely by machines which have "legal or other significant" impact on their lives, and it's likely that in 2019 more regulations will come. Facial recognition, for instance, is one of the most widely-adopted uses of artificial intelligence – and one of the most controversial. As such, many countries will no doubt be looking to regulate facial recognition next year, perhaps giving consumers the right to opt out of its uses, examine how it's being used to target them, receive full disclosure on how their facial data is being stored and managed, and demand that this data is permanently deleted from all corporate databases upon request. But this really is just the very tip of the iceberg when it comes to regulating AI applications.
More Transparency
Aside from measures enforced by a heightened regulatory environment, companies can start building public trust in artificial intelligence themselves by moving towards greater transparency.
Already this year, IBM unveiled technology designed to improve the traceability of decisions made by its AI OpenScale platform. The idea is to enable real-time insights into not only what those decisions are, but how they are being made, what connections are being drawn between the data used, and the potential for bias in information.
These types of insights will do more than just reassure the public, however. Businesses will also benefit from exposed biases in data or algorithms, and better artificial intelligence solutions delivering better (i.e. less biased) insights will emerge as a result. As such, in 2019, it's like that we'll see an increased emphasis on measures – be they regulatory or otherwise – designed to increase the transparency of AI.
"AI is a significant enabler of business transformation and leaders need to demonstrate they trust and responsibly use AI," said Vinodh Swaminathan, Principal in KPMG's Innovation & Enterprise Solutions team. "This includes an explanation of how AI capabilities are free of bias, protected from misuse, and consistently and predictably perform. For KPMG, it's critical we have AI technology that helps facilitate trust among organizations, and strategically supports enterprise-wide transformation. IBM's new AI OpenScale capabilities are designed to enable and enhance trust amongst organizations."
Greater Use in the Detection of Cyber Threats
We're basing this prediction on current trends that have emerged in 2018. According to Cisco's 2018 Security Capabilities Benchmark Study, chief information security officers (CISOs) report greater reliance on artificial intelligence to automate threat detection and response.
When asked which automated technologies their organizations rely on the most, 39% of the security professionals interviewed for the study said they are completely reliant on automation, while 34% are completely reliant on machine learning, and 32% completely reliant on AI.
(Image source: cisco.com)
However, the report also highlights that although CISOs are eager to add tools that use artificial intelligence and machine learning to their cybersecurity defenses, there is some frustration by the number of false positives such systems generate. Even so, as these AI tools and platforms continue to improve and learn what "normal" activity looks like in the network environments they are monitoring, their accuracy will increase, and it is highly likely that usage and reliance will only expand in 2019.
The Democratization of Data Science
With big data on the rise, there is a growing demand for skilled data scientists. However, there is a shortage, and this has created a big challenge for organizations looking to implement artificial intelligence initiatives. According to the LinkedIn Workforce Report for the US, published in August 2018, data science skills shortages are present in almost every large city in the US, with the national shortage numbering 151,717.
(Image source: linkedin.com)
However, when there is a shortage of a skill, the market moves to fill it in different ways. In 2019, we will almost certainly see the continued rise of new data science platforms that will significantly simplify many tasks that could hitherto only be completed by highly-skilled data scientists.
Looking at the current world of AI startups, we can see that competition is moving to industry- or process-specific applications that are focused on solving process- or industry-specific problems. Writing in Data Science Central, William Vorhies groups the CB Insights AI 100 2018 winners by industry or process to illustrate this trend: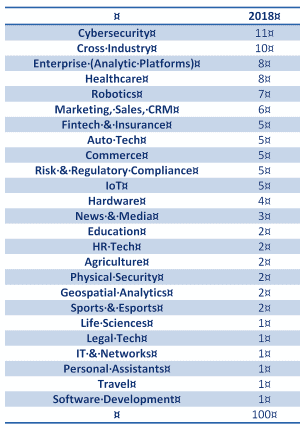 (Image source: datasciencecentral.com)
These new applications are designed to embed artificial intelligence or machine learning capabilities so that the organizations that use them don't need support from a large in-house group of data scientists.
In addition to this trend, there are many new data science automation platforms emerging that unlock data science for non-data scientists – such as data engineers, business intelligence engineers, and business analysts – effectively meaning that fewer data scientists can do the work of many.
Combined, these trends are creating a democratization of data science that we will see more of in 2019, enabling organizations to accelerate their AI implementations and data-driven decision making, even in the face of nationwide and global shortage of qualified data scientists.
Organizations Will Start to Build an AI-Ready Workforce
The impact of AI on the workforce is a concern for many – business leaders included. But while anxieties tend to be focused around the technology replacing human workers, studies indicate that artificial intelligence will create more jobs than it replaces – at least in 2019.
Gartner last year predicted that while 1.8 million jobs will be lost to artificial intelligence by the end of 2019, 2.3 million will be created. This chimes with some of the findings in PwC's recent international jobs automation study, in which executives agree that for now, artificial intelligence isn't taking away jobs in their organizations. In fact, twice as many executives said that AI will lead to an increased headcount (38%) as those who said it will lead to job cuts (19%) in their organization.
One major challenge, however, is to fill jobs, with 31% of the executives surveyed by PwC expressing concerns about the inability to meet the demand for artificial intelligence skills over the coming years. As such, more organizations will start implementing initiatives to get the workforce ready for artificial intelligence in 2019. PwC finds that 60% of organizations are implementing continual learning initiatives that include AI, 56% are developing plans that identify new skills and roles that will be needed, and 44% are expanding the AI talent pipeline with internships and college and university partnerships.
(Image source: pwc.com)
Final Thoughts
In all, we predict that artificial intelligence will start to truly come into its own in 2019. Adoption will certainly accelerate, and with it will come tighter regulations and a demand for greater transparency. We will also likely see artificial intelligence being used more frequently in cyber threat detection, with accuracy in this area improving throughout the year. There will be an impact on jobs, due both to the democratization of data science, and organizations preparing the workforce for the new AI world. There will be plenty of other developments too – this list doesn't even begin to discuss the trends for things like chatbots, virtual assistants, autonomous vehicles and much more besides. Artificial intelligence is now ubiquitous, and provides fertile ground for innovation across all sectors – so it's safe to say that we've got an exciting year ahead.