As I have been looking at the use of clouds in enterprises over the last several months, one of the things that I have noticed time and again is that most companies are leveraging multiple clouds. The Flexera 2020 State of the Cloud Report suggests that organizations currently are using 2.2 public and 2.2 private clouds on average. Also, they're experimenting with an additional 1.2 public clouds and 1.7 private clouds.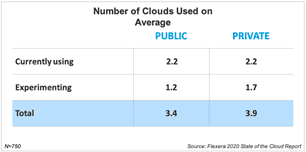 That same report suggests that enterprises have almost entirely embraced multi-cloud; 93% of respondents reported having a multi-cloud strategy. Eighty-seven percent are taking a hybrid approach, combining the use of both public and private clouds.
While I believe these numbers to be true based on my own anecdotal research from countless discussions with industry analysts, thought leaders, CIOs, cloud leaders, and heads of IT infrastructure, I also believe that when most people say they have a multi-cloud strategy, what they actually mean is "I just found out I am already using multiple clouds and need to figure out what to do about it" or "I picked AWS as my cloud platform because they are the market leader, but I also run Microsoft Office 365 so I need Azure as a second platform and have some folks doing work in that too". In my opinion, both statements are stumbling into multiple clouds, and they have nothing to do with a true multi-cloud strategy.
What would be the pieces of a multi-cloud strategy? A good multi-cloud strategy needs to ensure you:
Cloud Smarter
Cloud Safer
Cloud Simplified
Cloud Smarter
Let's start with the first one, Cloud Smarter. If you are going to have a multi-cloud strategy, part of that strategy needs to include putting the right workloads into the right cloud. But landing a workload into a cloud is a complex decision with any number of factors, including server costs, storage costs, data transfer fees, performance, uptime, latency, and many more. In order to Cloud Smarter and make the right decisions for each workload, you need a detailed set of data about your existing applications and the flows of data into and out of your systems. Many times, organizations try to collect this type of data manually in spreadsheets from application owners, but that isn't good enough. To truly Cloud Smarter, you need both a tool that can provide you detailed, real-time insights into your environment as well as expert practitioners to help you interpret that data and make the right decisions.
Cloud Safer
You've made the decision on where to land the application, but now you need to manage it. This is where our second leg of our multi-cloud strategy, Cloud Safer, comes into play.
When you are using multiple clouds, the complexity of your environment increases dramatically. Every one of those clouds has its own interface and its own security tools to learn and manage. The more clouds, the more tools you must learn. And to do it right, each one of those clouds is going to need a firewall, security incident and event management, micro-segmentation, identity and access management, endpoint security, and more. Each one of these tools becomes a place for you and your team to make a mistake that the bad guys can exploit.
So how do you Cloud Safer? By leveraging a curated best-of-breed security stack that enables you to manage all this complexity across clouds in a single place with a single integrated interface. By securing your clouds in a policy-driven manner that ensures the same implementation in every cloud, you can keep your clouds safe and secure.
Cloud Simplified
Finally, it is critical that we are managing the complexity that crops up from leveraging multiple clouds. That is why we need to Cloud Simplified. There are two key elements to Cloud Simplified.
First, matching enterprise-class workloads to a fit-for-purpose enterprise cloud will allow you to speed up your migrations into a cloud operating model and leverage existing operational knowledge and skills once you are there. This will allow you to focus your organizational upskilling on the teams and applications that can gain the most benefits by refactoring onto modern architectures and hyperscale clouds.
Second, you should leverage a set of multi-cloud universal services that will enable you to manage and optimize cost, performance, and events from every cloud in a single interface. These kinds of services can dramatically increase the effectiveness of your operations team and their workday today.
Cloud is here to stay, and it looks like it won't be long before every company is using multiple clouds in their environment. Taking a step back now and developing a multi-cloud strategy that allows you to Cloud Smarter, Cloud Safer, and Cloud Simplified will ensure that your organization delivers all the promised business benefits of the cloud. To find out more about what multi-cloud strategy works best for you, click here.