If you read blogs, articles and books, and attend conferences and tradeshows, then you're probably looking for IT industry guidance that you could use to improve your way of working and the services that you provide. But how do you assess how the guidance is going to contribute to your enterprise's business goals? This 'dependency framework' is intended to help. It describes how IT industry guidance affects your IT operating model, how your IT operating model improves your information systems, how your information systems contribute to the lines of business, and how the lines of business model achieve their business goals.

Figure: dependency framework
From IT industry guidance to information systems
IT industry guidance comes in various forms but these are usually models, principles and practices that can be adopted and adapted to improve IT's operation model – in other words, its way of working. But what is an IT operating model?
"Operating model" is a term that is often poorly defined and loosely used, but Andrew Campbell defines it in his Operating Model Canvas as a visual representation in the form of a diagram or map or chart or collection of diagrams, maps, tables and charts that show the elements of the organisation that are important for delivering the organisation's value proposition, and how these elements combine to successfully deliver the value proposition. Campbell uses six elements to describe the operating model:
Processes: the work that needs to be done to deliver the value proposition
Organisation: the people who do the work, and how they are organised
Locations: where the people are located, and the assets they need to help them
Information: the information systems the people need to help them
Suppliers: the suppliers who support the work
Management system: the management system used to run the organisation.
This framework for an operating model at an enterprise level is equally applicable as an operating model for an IT function aimed at delivering its IT value propositions.
Most of the guidance in our traditional IT service management frameworks focusses on the work processes, with some organisational and management guidance. A major contribution of both Agile and DevOps is to fostering a constructive organisational culture. DevOps and IT4ITTM also contribute to the information systems needed to automate IT processes and run IT as a business. SIAM's focus is the coordination of multiple suppliers. These are just examples, but they illustrate how IT industry guidance contributes to improving the IT operating model.
The next question, is how does this affect the information systems? Let's first take a look at the properties of information systems. A simplistic but effective approach is to assess how good, fast and cheap they are. Good can be sub-divided into fitness for purpose and fitness for use. Fitness for purpose is about the functionality, while fitness for use refers to operational behaviour such as reliability, availability, performance and security. Fast is about the speed with which changes can be developed and put into production. Cheap refers to the operational and capital expenditure. Simply put, capital expenditure is how much you spend on acquiring resources, and operational expenditure is how much it costs to use them.
If you're looking to speed up development and delivery, then Agile and DevOps are no-brainers. DevOps will also improve fitness for use, but Agile more about fitness for purpose – the functionality. Will SIAM improve the functionality of information systems? Unless we're talking about very mature strategic collaboration, I doubt it, but better integration of suppliers will certainly improve response times, and will therefore improve fitness for use, speed of delivery and probably costs as well. Again, these are just examples, illustrating how the dependency framework can be used to assess how industry guidance contributes to improving information systems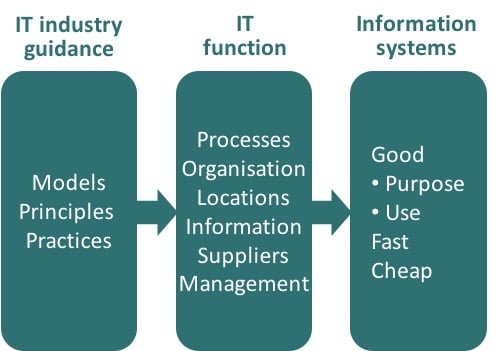 Figure: dependency between IT industry guidance and information systems
From information systems to business goals
The next step is to explore how information systems help the lines of business to achieve their business goals. Taking a commercial enterprise as an example, business goals would typically be formulated as more revenue, higher prices, lower operational and capital expenditure, and lower risks that revenue, prices and costs will be adversely affected. The lines of business achieve these goals by choosing and executing an effective business model. Alex Osterwalder's Business Model Canvas is a template for developing new or documenting existing business models. It is a visual chart with elements describing a firm's or product's value proposition, infrastructure, customers, and finances. The elements are:
Customer segments: the customers the company tries to serve
Customer relationships: the types of relationships they want to create with their customer segments
Channels: the channels through which a company delivers its value proposition to its targeted customers
Value propositions: the collection of products and services a business offers to meet the needs of its customers
Revenue streams: the way a company makes income from each customer segment
Cost structure: the most important monetary consequences while operating under different business models
Key activities: the most important activities in executing a company's value proposition
Key resources: the resources that are necessary to create value for the customer
Key partners: the buyer-supplier network and relationships that enable the company to focus on their core activity
Let's look at how information systems contribute to business goals.
The functionality of an information system can be aimed at improving any of the elements in the business model. For instance, automating or supporting manual activities, creating new sales and delivery channels, introducing a new value proposition (e.g. Uber), and improving customer relationships with an attractive app. So, the information system's fitness for purpose potentially contributes to improving all of the business goals.
Fitness for use reduces the risk that sales, prices and costs will be adversely affected. An outage can not only result in productivity loss but – depending on its proximity to the customer – also loss of sales and damage to the company's reputation if the customer experience is affected. Seeing as loyal customers not only buy more from their trusted provider but are also prepared to pay higher prices, repeated disruptions like these can also put pressure on prices.
Faster delivery of new and improved functionality affects the speed with which the benefits of the functionality can be gained.
Cheaper information systems reduce the company's operational and capital expenditure but seeing as IT costs are a fraction of the total costs – typically 10-15% but strongly dependent on the industry – these savings, while of course always welcome, may not be significant. It may in fact be worth investing more in IT in order to create functionality that leads to substantially larger savings on business operations. Or more sales, or higher prices.
This illustrates how improvement of each of the properties of information systems has the potential to improve different goals of the lines of business.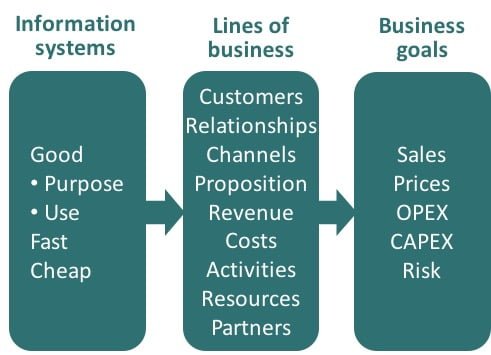 Figure: dependency between information systems and business goals
From IT industry guidance to business goals
Tying these two parts together gives us a useful framework to bear in mind when contemplating the adoption of IT industry guidance. The two main questions to ask, are:
Which business goals need improvement and how can better/faster/cheaper information systems help the lines of business achieve their goals?
How will this IT industry guidance help me improve my IT operating model so that my information systems become better/faster/cheaper?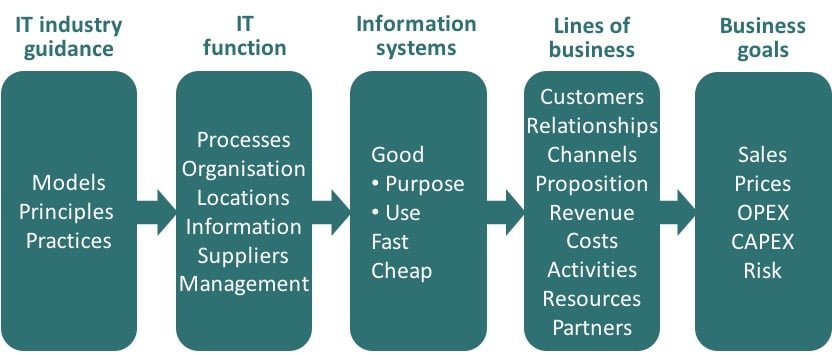 Figure: dependency framework