The Coronavirus and the COVID-19 disease that is caused by it are having profound and widespread impacts across the global economy.  As companies, governments, and communities wake up to the news each morning, the infections and death counts continue to rise, the stock market continues to fall, and the uncertainty of the situation causes our collective stress levels to go through the roof.  Discussions in boardrooms and management meetings shift from long-term projections and strategic planning to crisis management, employee health, and managing operational disruptions the company is likely to face over the coming weeks and months.  
Once company leaders get their contingency plans in place to deal with the near-term decisions that must be made (many of you are here today and if you are in crisis planning mode, please bookmark this article and address the problems in front of you before continuing), the time will come to shift focus to the future.  How long can the company sustain operating under contingency situations before more structural changes are needed (revising forecasts, budgets, resources)? When will operations return to normal? Will operations ever return to the way they were before Coronavirus? Should they? These are the question you really should be asking.  

Coronavirus is shaping up to be more than a short-term disruption.  Its impacts will be lasting, and many are beginning to predict that this will become a milestone in business history – the event that causes companies and communities to shift the way they think about work fundamentally.  The technology has been available for some time to enable remote work, automation of service-related tasks (like customer service and retail sales). Still, companies haven't fully embraced them because (until now) customers have shown a preference for in-person interactions.  Likewise, businesses have co-located teams and departments into office buildings based on the premise of increased productivity and comradery through face-to-face interactions.  
Is it time to re-think the wisdom of "open concept workspace"?
We are now facing a situation where these person-to-person interactions are potentially putting your employees' and customers' health at risk.  Is it time to re-think our business models? This isn't an experience that will be easily or soon forgotten. It may very well be the tipping point that moves companies and industries off the fence and fully into the digital age. 
Establishing a new vision for the future
Major disruptions (whether they be natural disasters, disease, political unrest, shifts in the economy, or significant technology advancements) don't often result in things returning to the way they were before.  They alter the course of history and create a new normal that individuals, businesses, and communities learn to adapt to. As we look beyond the immediate impacts of the Coronavirus, we need to start thinking and talking about how the world will be changed going forward.  Should employees be asked to work in office environments where disease and physical disasters are a higher risk? Or should your company embrace remote work as a primary business model? Consider these five reasons why companies should embrace a virtual workforce.  
Most businesses have adopted some sort of virtual collaboration technologies over the past decade.  Examples include messaging apps like Microsoft Teams and Slack as well as web-based video conferencing services like Zoom, Webex, and GoToMeeting.  As employees are being asked to work from home (WFH), these collaboration platforms are becoming the go-to means of intra-company communication. They work well, and once employees get used to them, they often find meetings and interactions are more efficient and productive.  Business problems and collaborative tasks are solved in real-time via ad-hoc interactions instead of scheduling a meeting, booking a conference room, and waiting for people to show up. Real-time business problem solving is one of the keys to unlocking enterprise business agility, and the techniques your employees are learning now can help shape your future business. 
Coronavirus Changed Things: Why 5G mobile networks couldn't be coming at a better time
Is it time to lean-in and embrace digital-first business models over in-person interactions with customers?  The millennial generation has shown a preference for digital interactions and technology-enabled services. Gen X, Gen Y, and Gen Z have been on the fence, but the current experience is likely to push them in that direction too.  The wide variety of products offered by Amazon, Walmart, and Target, are fulfilled and delivered to customers by companies such as UPS, FedEx, DHL, Onramp, and other logistics providers. These are clear examples of how modern, technology-driven business models are helping mitigate the economic disruption of the Coronavirus for individuals.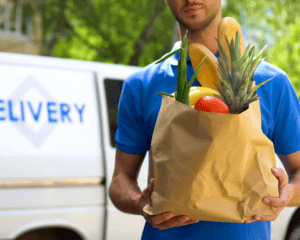 In many cities and towns, people can order groceries online through their local supermarkets and either have them available for curbside pickup or delivered to your home the same day.  Restaurant delivery services like GrubHub, Uber Eats, Eat24, and Doordash take this one step further. These services are seeing a significant uptick in business as people are wary of visiting crowded public places for fear of exposure to the Coronavirus.  But once consumers get a taste for the convenience that these services provide, they are likely to continue using them.  
Is your business as agile as you think you are?
There has been a lot of discussions lately about enterprise business agility – developing organizations, operations, and systems that not only meet the needs of the business today but can rapidly evolve to adapt to changes in the business environment.  How agile are you really?  Coronavirus is putting business agility to the test. If you're like many business and IT leaders, you've made significant investments over the past few years in the digital transformation of your business processes – that is a good thing!  If you've executed those initiatives well, you should now be reaping the fruits of your labor. The situations businesses are facing with Coronavirus today are genuinely putting their business agility to the test. For those who are struggling to adapt, they will either learn to become agile (quickly) or fail.  
Digital transformation has created a new business environment where workers are connected through technology, not just by physical presence.  IT systems have been enabled distributed team members to collaborate with each other and with others across the enterprise. Now, these same digitally transformed business processes are enabling employees to work remotely and be productive even if they can't come into the office physically.  That is the idea, at least, the reality in your company may not be quite there yet. If that's the case, this may be precisely the business justification you need for initiating the next round of digital transformation projects. You've shown how technology can help support the business needs of yesterday; now it's time to take it one step further and show how technology can support the (new) business needs of tomorrow.
Summary:
Coronavirus is Reshaping the way Companies Think About Work
The Coronavirus and the COVID-19 disease that is caused by it are having profound and widespread impacts across the global economy. Discussions in boardrooms and management meetings shift from long-term projections and strategic planning to crisis management, employee health, and managing operational disruptions the company is likely to face over the coming weeks and months. Coronavirus is shaping up to be more than a short-term disruption. Its impacts will be lasting, and many are beginning to predict that this will become a milestone in business history – the event that causes companies and communities to shift the way they think about work fundamentally. We are now facing a situation where these person-to-person interactions are potentially putting your employees' and customers' health at risk. Is it time to re-think our business models? Establishing a new vision for the future. Major disruptions (whether they be natural disasters, disease, political unrest, shifts in the economy, or significant technology advancements) don't often result in things returning to the way they were before. For more information on WFH types, best practices, and more please visit https://itchronicles.com/what-is-wfh/