5G investment information…
The 5th Generation of wireless technology or 5G comes with the promise of a quantum leap in data transfer speeds, more real-time communications due to minimal latency (the lag between the sending of a signal from a device and its receipt in a usable form), and the capacity to connect many more simultaneous devices than was possible under previous generations.
Network carriers, service providers, component manufacturers, and developers have been investing in 5G technology as a means of bringing all this about – and plenty of businesses looking to benefit from the shift to 5G. More generally, players in the stock market may also gain from 5G investments. However, many investors are unclear as to the best 5G stocks to invest in.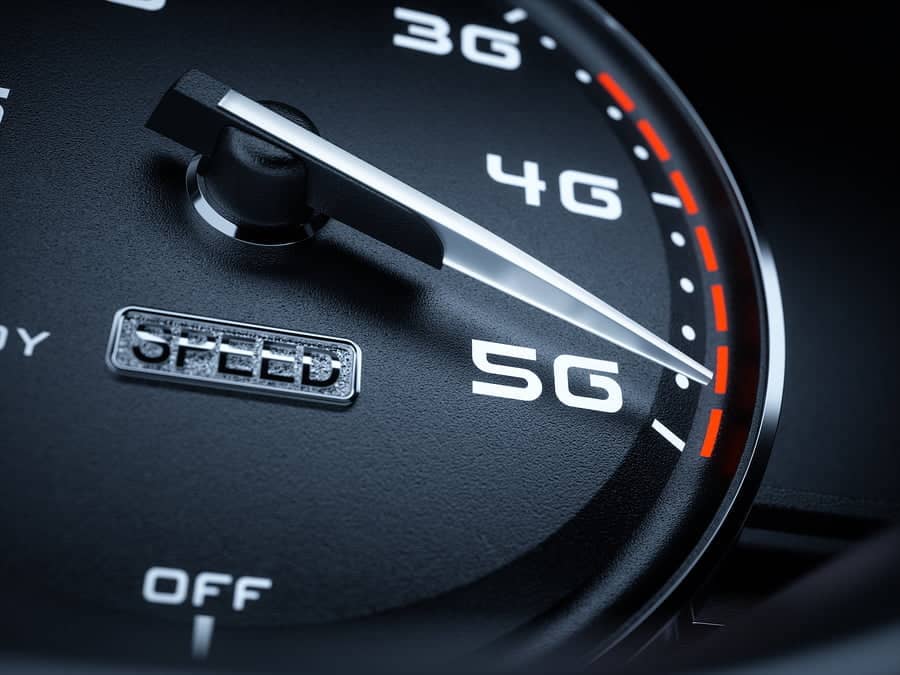 In this 5G investors playbook, we'll be putting the spotlight on the best 5G companies to invest in, strategies for those looking to invest in 5G stocks and general considerations on how to invest in 5G technology.
Top 5G Companies to Invest In
As of August 2020, these brands stand out as the most promising 5G companies to invest your assets in:
Apple (AAPL)
Given its dominance in the smartphone market, Apple's entry into the 5G space has been eagerly anticipated. Apple (AAPL) is expected to roll out new 5G iPhones early in the fourth quarter of 2020, with many analysts anticipating that 5G iPhones will spark a new upgrade cycle in 2021.
Though the price levels that Apple sets will be key, 5G implementation will likely boost AAPL's value by 35%. So, in a short while, AAPL could be trading at around $600 or more.
AAPL has a forward P/E ratio of 34.39, indicating that it's reasonably priced at $450. In terms of POWR Ratings, AAPL has grades of A in each POWR Component and an industry rank of 1 out of 28 stocks in the Technology – Hardware industry.
Nokia (NOK)
Having resolved the over-pricing issues with some of its core technology, Nokia (NOK) has emerged as one of the best 5G companies to invest in. Since March 2020, NOK stock has appreciated in value from $2.43 to $5.
The company is one of the world's largest mobile equipment operators and currently has about 16% of the market share. In its most recent earnings report, Nokia Corporation recorded a 21% increase in earnings. Nokia is now developing 5G cloud gateways, which will enable mini data centers in neighborhoods to link up with cloud computing infrastructure.
POWR Ratings indicate that NOK has an A in Trade Grade and B grades in each other POWR Component. Nokia stocks have a price target of $5.39.
T-Mobile (TMUS)
T-Mobile's 5G network covers more locations and people than any other and provides the most reliable 5G signal in the United States. The TMUS network covers a quarter-billion people in the US across nearly 8,000 cities, spanning more than a million square miles. With the closure of its merger with Sprint, T-Mobile is also on track to deploy 5G using mid-band frequencies ahead of its rivals.
In terms of POWR Ratings, TMUS has A grades in all POWR components except Industry Rank. And T-Mobile investments are ranked second of 24 stocks in the Telecom – Domestic industry. Analysts are setting a price target of $121.18 on TMUS stocks and advising investors to hold onto it for now.
Other 5G Stocks to Invest In
Though Apple, Nokia, and T-Mobile currently represent the top three 5G stocks to invest in 2020, there are plenty of other 5G investment opportunities available.
5G implementation will require heavy investments in network infrastructure to handle the huge volumes of bandwidth. Component manufacturers and ancillary technology and service providers are also among the best 5G investments worth considering. And in the light of the growing use of sanctions against China's 5G giant Huawei, business opportunities for alternative providers are opening up across the world.
The following are some of the most promising 5G stocks to invest your money in:
Possible 5GInvestment: AT&T (T)
In July 2020, AT&T announced that it had completed the national roll-out of its 5G network, with coverage for 205 million consumers across 395 markets. The company already has a stable mobile subscriber base of 165.9 million.
To further capitalize on this, AT&T completed a $108 billion deal for Time Warner, which has enabled the company to create a streaming video service called HBO Max, which has about 36 million subscribers.
AT&T's free cash flows for the first half of this year came to $11.5 billion.
Ciena (CIEN)
Ciena was the first to introduce an 800-gig infrastructure system to the market, and the company has expertise in fiber optics and software-defined networking (SDN). 5G networks will connect to fiber-optic networks for "long haul" purposes, thereby providing greater reliability for emerging automotive, robotics, and medical applications.
Despite slow revenue growth this year, the company has been able to improve margins. And with Ciena set to pick up business from those unwilling to deal with Huawei, its bottom line should increase.
Crown Castle International (CCI)
Crown Castle International (CCI) is a leading manufacturer and distributor of mobile towers. Its primary focus is the US market, where it has over 40,000 installations and about 80,000 route miles of fiber optic lines. Many of its locations are for densely occupied environments such as stadiums and office spaces, where 5G could be deployed for applications like streaming, collaboration, and sports betting.
CCI stock is structured as a Real Estate Investment Trust (REIT), with tax incentives to pay dividends. And if 5G exhibits strong growth, there will be continued strong capital gains as well.
Possible 5GInvestment: Nvidia (NVDA)
Nvidia's graphics processing units or GPUs have become a critical ingredient for artificial intelligence (AI) applications in the data center.
With 5G allowing a considerable amount of algorithm processing to be done in the cloud, performance gains for AI should be significant – and generate increased demand for Nvidia GPUs.
Nvidia stock is currently on the IBD Leaderboard.
Possible 5GInvestment: Qualcomm (QCOM)
Qualcomm, the leading supplier of microprocessors in China, will notably supply chips for Apple's eagerly anticipated 5G iPhones. Qualcomm also aims to provide 5G development platforms. Recently, for example, it released tools to build AI-enabled robotics products with 5G connectivity.
A key part of the company's strategy has been to put together a powerful set of intellectual property, then license it out to customers. The result is a high-margin stream of recurring revenues.
QCOM stock has exhibited significant gains in 2020, rising from $61 in March to $110 in August.
Possible 5GInvestment: Vuzix (VUZI)
Vuzix is a developer of smart glasses, incorporating technology that helps to minimize the motion sickness that's common with most virtual reality (VR) and augmented reality (AR) experiences. Using this technology, the company has already built powerful enterprise solutions, with successful applications for manufacturing, remote sport, warehousing, navigation, and training. Vuzix has also seen increased demand for its technologies due to the remote working practices forced by COVID-19.
With 5G reductions in lag, increased throughput, and faster data transmission, there should be a significant improvement in immersive VR and AR experiences, fueling the demand for technologies such as those that Vuzix has to offer.
Vuzix has also been assembling an impressive portfolio of intellectual property, with over 157 patents and patents pending. All of these elements combine to make VUZI one of the hottest 5G stocks to buy right now.
How to go About 5G Investment
There's no "one size fits all" solution for how to invest in 5G, as the sector is so broad that companies benefiting from it can fit within many different types of investment portfolios. Generally speaking:
Value investors seeking a high margin of safety might favor semiconductor companies and device makers currently sporting a low P/E ratio, that will benefit from the IoT.
Income-seeking investors might prefer major telecommunications carriers offering high dividend yields.
Growth investors will tend to like high-growth semiconductor makers and payments companies, which will likely benefit from the proliferation of high-speed wireless networks and the IoT.
Exchange-traded funds (ETFs) offer the easiest way to invest in 5G, with a selection of equities collected under one trading symbol and traded as a single entity. They offer instant diversification and give investors a simple way to gain immediate access to the broader market or specific investment themes. The Global X Internet of Things ETF (NASDAQ: SNSR) and the Pacer Benchmark Data and Infrastructure Real Estate ETF offer specific opportunities for the 5G market.