Employee engagement has been a hot topic over the past ten or more years, as new generations (those pesky millennials) have entered the workforce seeking new opportunities and upward mobility. And it's no surprise. Employees, of course, spend more of their waking hours at work than they do at home with their friends and families, so it's hardly a wonder that they want to be engaged and passionate about their jobs.
Most organizational leaders understand – and agree – that employee engagement has a direct impact on company performance and profitability. And so they should. Aon's 2018 Trends in Global Employee Engagement report finds that a five-point increase in employee engagement is linked to a 3% increase in revenue. Elsewhere, a Gallup study found a connection between low engagement and team performance, and concluded that when employee's needs are not met, turnover is higher, which can cost an employer 1.5 times the employee's original salary. The study also found that organizations with engaged teams have lower turnover, 21% greater profitability, 17% higher productivity, and 10% higher customer ratings than those with disengaged teams.
HR.com's The State of Employee Engagement in 2018 report reveals similar findings. 90% of the firms interviewed believed there is solid evidence linking engagement to performance. It also found that among highly-engaged organizations, 62% reported being in the top quartile of financial performers compared to competitors in their respective industries. Among less engaged organizations, the number was only 40%.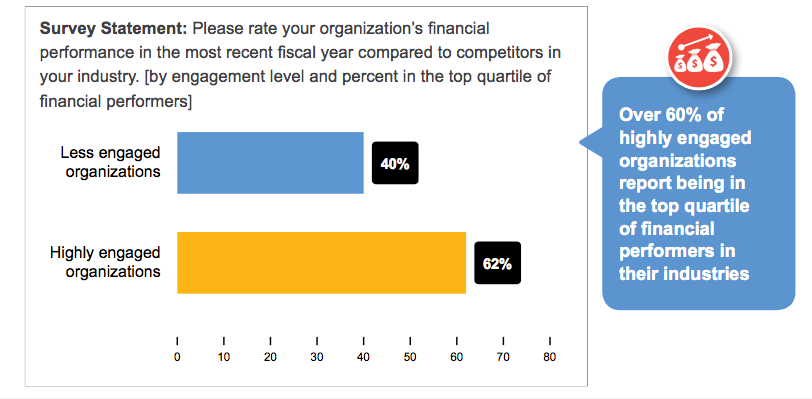 (Image source: hr.com)
Plenty of reasons, then, to ensure employee engagement is high on the list of priorities for organizational leaders and managers working today.
However, HR.com's survey also revealed that over two-thirds of respondents believed that less than 70% of their employees were engaged, indicating that the vast majority of employers could be doing a lot more to increase employee engagement.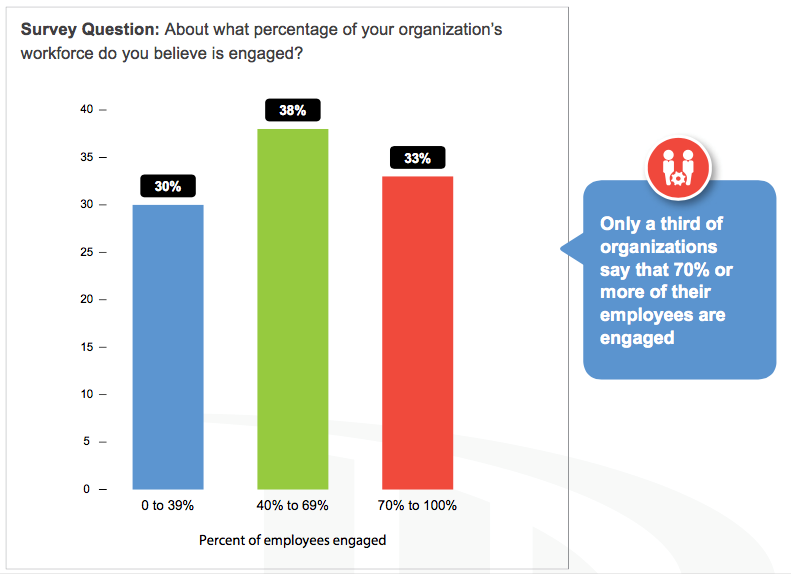 Having an engaged workforce is clearly good for business. So, what can organizations do to put their employees at the forefront and gain a better understanding of their unique needs?
Well, today, there are plethora of tech tools available that enable leaders to monitor their organization's culture, generate important feedback, and even dish out rewards – all with the express purpose of improving employee engagement.
Let's consider five great offerings on the market today.
Culture Amp
Improving employee engagement begins with gaining an understanding of your workforce. Culture Amp is one of the most popular – and bills itself as being one of the most powerful – employee feedback and analytics platforms on the market.
Designed and supported by psychologists and data scientists, Culture Amp's on-demand platform enables organizations to build an engaging and simple-to-use employee feedback program, enabling HR leaders to make better decisions, demonstrate impact, and turn company culture into a competitive edge.
Collecting data from workforce surveys, Culture Amp allows organizations to compare their own employee engagement scores against best-in-class companies in the industry, and look for areas to improve. The platform's Text Analytics function uses topic and sentiment analysis to analyze survey responses and help leaders quickly quantify and understand what's going on within the organization. It also provides recommendations on where to focus improvement efforts, and the in-built "Inspiration Engine" gives ideas on how to take meaningful action to improve engagement across the team.
Going beyond simple ratings and scores, the main strength of Culture Amp is that it uses data to help organizations create action plans for improvement processes across the board.
(Video source: youtube.com)
Officevibe
Officevibe is another great tool for collecting specific insights from your team to help you identify both what employees are dissatisfied with, and where the opportunities are to increase your team's efficiency.
Officevibe automatically sends weekly surveys to various team members, and facilitates the beginnings of important conversations right inside the platform. Results are then packaged into reports for sharing with the rest of the company.
The tool also offers a custom polling option, enabling leaders to test the waters and gather opinions on various projects that might be coming up over the course of the year. Questions can be formatted for text, opinion scale, or multiple choice responses, and the polls can be sent separately or along with the weekly employee engagement surveys.
Kudos
Kudos is a social employee recognition system that provides organizations with a branded online environment through which value-based employee achievements can be celebrated.
The Kudos platform is presented as a kind of corporate social network, designed to engage teams with enhanced communication, collaboration, appreciation and recognition. Leaders can celebrate notable events and employee achievements with custom awards, badges and certificates, and can also record video recognition messages to send directly to individual employees.
Kudos also has gamification features. Points can be given to employees based on their performance or individual achievements, which can then be "cashed in" for actual rewards if the company chooses. For example, eGift cards can be awarded once an employee has accrued a certain amount of points, or custom awards can be made, such as branded merchandise, local gift cards, non-monetary gifts, time off, or the best parking space at the office.
Feedback surveys are also offered, and Kudos comes with a free trial.
Kudos Overview from KudosNowTV on Vimeo.
(Video source: vimeo.com)
Reward Gateway

Reward Gateway is a multilayered platform that enables team leaders to streamline individual recognition, internal communications, employee benefits, and satisfaction surveys.
Reward Gateway comes with a customizable employee reward scheme that includes eCards, social recognition, peer-to-peer nominations, and customized service awards. It also includes an internal communications platform, which provides the ability for employees to "like" posts and comments social media-style, as well as create user profiles to increase employee visibility and grow connections within the workforce.
The platform also allows organizations to create personalized experiences for better employee engagement. For example, new homepages can be created for new recruits, satellite offices, and field works, all of which can be tailored to meet the precise needs of individual employees.
Reward Gateway also has a peer-to-peer recognition program, an employee benefits platform, and tools to promote the physical, mental and financial wellbeing of employees. With survey tools also included, Reward Gateway is the complete employee engagement platform.
Qmarkets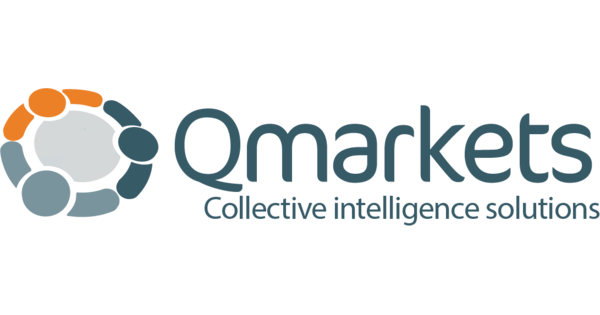 One of the best ways to show employees that they're valued is to ask them for their input – and then act on their suggestions. One of the best sources of innovation is found in those working on the frontline, and often the most successful companies are those that capitalize on this asset to transform ideas into real results.
Qmarkets offers a suite of collective intelligence software solutions and innovation management products. Designed to drive an internal innovation culture that increases employee engagement through harnessing their collective intelligence and putting ideas into action, Qmarkets makes the process of employee collaboration and interaction as easy as possible.
Incorporating interaction tools such as idea discussions, rating systems and intelligent email notifications, Qmarkets enables streamlined enterprise idea management that taps employees for business process improvements.
Comment threads are made available for every idea put forward, along with the ability to create private discussions for specific ideas. In addition, crowd-voting tools enable employees to vote ideas up or down, and the process can also be gamified by allowing users to collect points and earn badges. A smart set of tools for smart employee engagement.
Final Thoughts
Employee engagement is essential for every workplace. Organizations that invest in the right tools can attract, engage and retain the best talent for the long term. As we move into 2019, it's crucial to think carefully about how you can increase employee engagement, and with the right tools at your disposal, you can enjoy the long-lasting benefits of a more committed, devoted and passionate team.
Summary:
How to increase employee engagement
Most organizational leaders understand – and agree – that employee engagement has a direct impact on company performance and profitability. Tech tools to increase employee engagement: 1. Culture Amp. 2. Officevibe. 3. Kudos. 4. Reward Gateway. 5. Qmarkets.